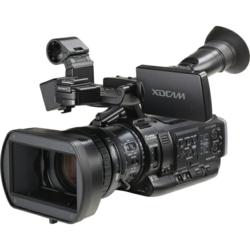 Chicago, IL (PRWEB) March 23, 2013
Reliability, exceptional video in low-light conditions, and high optical zoom range are some of the more important features you should be looking for when selecting a video camera suitable for wedding coverage. In addition, consider media format, audio inputs and the size and "look" of the camera. A handheld camera might shoot HD video, but will you stand out as a "professional" videographer without a decent-sized camera on your shoulder, or a solid tripod?
As you look over the wide range of cameras, you will, no doubt, be taking your clientele into account. Will you be covering high-end weddings with multiple cameras, are you currently at the entry level or perhaps shooting your very first wedding for a family member? Do you want all the bells and whistles or are you a purist who prefers sticking to the basics and keeping life simple? Ultimately, your list of preferences is unique to your work style and ergonomic requirements. In order to assist you with your decision, we have reviewed a variety of models selected specifically for capturing a couple's wedding-day memories.
Advanced and Intermediate-Level Camcorders
A favorite with many experienced videographers is the Sony PMW-200. It captures Full HD and SD video, and supports continuous recording times of up to four hours in the 50 Mbps MPEG HD422 mode with clip spanning on two 64GB cards. With 4 channels of high quality, 48 kHz, 16-bit LPCM, you will have all the audio capabilities needed to cover every element of a wedding weekend. Shooting in low light is no problem for Sony's flagship camcorder. Three Full HD 1/2" CMOS sensors and a fast maximum aperture setting (f/1.9 - f/16 on a Fujinon 14x optical zoom lens), will thrill you with the exceptional video you can capture under the chandeliers in dimly lit reception halls. Weighing slightly more than 5 pounds, this camera is heavy enough for stability, yet won't wear you out during hours of shooting.
Sony's PMW-160 XDCAM HD422 Camcorder has three 1/3" Exmor CMOS sensors with an excellent signal-to-noise ratio of 54 dB. The 20x power zoom lens offers slightly more reach than the PMW-200, and the Wi-Fi remote capability (the Wi-Fi adapter is sold separately) is invaluable for the "one-person band" shooting with two or more cameras.
JVC produces the GY-HM600 ProHD Camera, another worthy professional-class camera to consider. The HM600 can record up to 1080/59.41i HD video in MOV: H.264, MP4 and AVCHD. The Fujinon zoom lens features an impressive 23x optical zoom ratio. Standard sensitivity is rated for f/11 at 2000 lux for exceptional quality in low light. Two channels of 48 kHz 16-bit audio recording with 2 XLR inputs and a 3.5mm mini jack round out this advanced package.
The GY-HM650 ProHD Mobile News Camera offers the same features as the HM600, but with the addition of Wi-Fi connectivity and FTP server support. This compact camera allows you to record and automatically transmit footage to your home or office, a nifty feature if your editor is standing by for a "day of" presentation at the reception that evening. Like the HM600, the HM650 weighs 5.3 lb, giving you stability on the shoulder without being the heaviest camcorder in this roundup.
Sony's HXR-NX5U is another solid performer. Its versatility in capturing different formats may fit nicely into your profile as well. Able to record 720/60p video in addition to 60i, 30p and 24p, this camera is versatile and easy to operate. The zoom range gets extremely high marks (20x G-Lens, optimized for advanced image processing) and you can choose to record on Memory Stick or SDHC cards.
If you are looking for a camera that supports both NTSC and PAL standards, Panasonic has built a camera for you to consider: AG-AC160A AVCCAM HD Handheld Camcorder. In today's marketplace, worldwide compatibility might be an important enough factor to give this camera a closer look. Like many of the other cameras in this category, the AG-AC160A captures video at a variety of frame rates. This capacity allows you to create your own unique "look." Shooting in 60p and playing back in 24p, for instance, gives you a very smooth slow-motion effect to incorporate into your final product. 
As you can see from this diverse sampling of excellent camcorders, the variety of file formats, lenses and audio packages can be quite a bit to digest. You will likely see one or two cameras that pique your interest and will serve your clients' needs as well as your own. When you reach that point, visit us on the web: http://www.hdvtools.com, or contact us by phone at 1-312-235-2031.