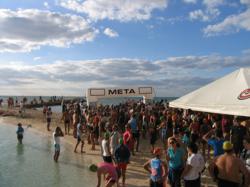 270 athletes participated in the first edition, in 2012 300 triathletes took part, and this year the number of participants is expected to increase
Riviera Maya, Mexico (PRWEB) March 24, 2013
The Sunset World Resorts & Vacation Experiences group announced it will be staging the 3rd Hacienda Tres Rios Sprint Triathlon on May 26th in the ecotourism complex in the Riviera Maya, with the goal of promoting sports tourism and family unity.
The competition, organized by Aire Libre, a sports events agency endorsed by the Mexican Triathlon Federation, consists of a 750 meter swim, a 20 kilometer bicycle section and a 5 kilometer road race. There will be categories for men and women and prizes will be given in kind, as well as gifts from sponsoring companies and diplomas for the first three places in each category.
For this third edition more than 300 triathletes are expected from the home state, as well as from other parts of Mexico and abroad, and special packages have been prepared to promote the sport and the natural beauty of the Mexican Caribbean.
For the 3rd Sprint Triathlon, the Hacienda Tres Rios ecotourism complex, the only environmentally responsible luxury resort with access to the exclusive Tres Rios Nature Park, offers a 4 days and 3 nights package for two adults and two children under 12 years of age, in the Endless Luxury All Inclusive Plan, for 749 dollars, a rate which includes the competition registration fee for one adult as well as coupons for a 30 dollar credit per adult in the Ya´axChé Spa.
For triathletes and the general public from Quintana Roo, the resort offers a special all inclusive package for 1,200 pesos per person, per night, including children under six years of age for free and a 50% discount for children between the ages of 7 and 16. The day pass, which includes food and national and imported drinks, along with the chance to enjoy the kids club and other hotel facilities, has a rate of 750 pesos per person.
The organizing committee expects an excellent response from the athletes for this third edition, since it offers triathlon enthusiasts the chance to compete in their favorite sport while surrounded by the beautiful jungle and beaches at Tres Rios. 270 athletes participated in the first edition, in 2012 300 triathletes took part, and this year the number of participants is expected to increase