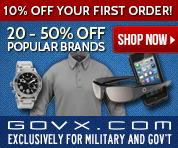 GovX.com gives our members access to the best lifestyle and outdoor products at a deep discount. The partnership is a natural fit, and we're excited to offer this new benefit to our 380,000 members and their spouses. - MOAA President Vice Adm. Norb Ryan
Alexandria, Va. (PRWEB) March 25, 2013
Military Officers Association of America (MOAA) is aligning with GovX.com to offer substantial discounts to its members and their families.
GovX.com offers savings up to 50% on premium brands and products, such as action sports and outdoor equipment, apparel, on-duty tactical gear, electronics, jewelry, shoes and accessories, home décor and much more, all with substantial savings of up to 50 percent and more. GovX.com is accessible only to military and other government-qualified members, not the general public. MOAA members will receive automatic activation to access GovX.com benefits by visiting http://www.GovX.com/moaa. From there, members can activate their free GovX.com account and begin shopping on GovX.com for everyday premium brands and products.
"MOAA's membership base provides great bargaining power, and we're proud to leverage that collaboration to give our members benefits that help them live fun, active lives while saving money at the same time," MOAA President Vice Adm. Norb Ryan Jr. said. "GovX.com gives our members access to the best lifestyle and outdoor products at a deep discount. The partnership is a natural fit, and we're excited to offer this new benefit to our 380,000 members and their spouses."
GovX.com works with military and government personnel to carefully select manufacturer-partners that deliver high quality and unique products members will enjoy. SPY, Callaway, Luminox, Alpinestars, OluKai, New Balance, and VonZipper are among the over 110 premium brands that GovX.com has partnered with to provide privileged savings on more than 10,000 products for MOAA members. The GovX.com member verification process ensures brand partners are able to offer special discounts not otherwise viewable or accessible to the general public.
About MOAA:
Military Officers Association of America (MOAA) is the nation's largest officers association with more than 380,000 members from every branch of service, including active duty, retired, National Guard, Reserve, and former officers and their families and survivors. MOAA is a nonprofit and politically nonpartisan organization and an influential force in promoting a strong national defense. MOAA represents the interests of service members and their families in every stage of their lives and careers, and for those who are not eligible to join MOAA, Voices for America's Troops is a nonprofit MOAA affiliate that supports a strong national defense. For more information, visit http://www.moaa.org.