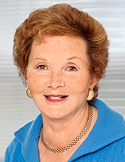 I coined the term 'corporate housing' in 1980, and from day one, my objective has been to always keep it new,
Chicago, IL (PRWEB) March 25, 2013
After 33 years in the corporate housing business, Manilow Suites is still brand new, continuing to innnovate and lead the way in Chicago and it's western suburbs.
Listening to Francine Manilow talk about the business of running Chicago's most successful corporate housing company, it's hard to believe she's been at it for 33 years.
She's as energized as the day Manilow Suites opened as she rattles off the "firsts" the company has brought to the temporary housing industry.
"I coined the term 'corporate housing' in 1980, and from day one, my objective has been to always keep it new," Francine says. "We started by being the first to combine Chicago luxury apartment living with five-star hotel amenities. Then we were first to add king-size beds, two top-of-the-line TVs and the 5-day no-penalty notice to vacate – we're still the only temporary housing company in Chicago that offers that. Our latest additions? 55-inch plasma TV sets and room darkening drapes in selected apartments."
Manilow Suites today has an inventory of over 200 corporate housing apartments in some of Chicago's most prestigious high-rise buildings. Included are North Harbor Tower and The Shoreham in Lakeshore East, Millennium Park Plaza and 215 West in the Loop, Grand Plaza in River North, Presidential Towers in the South Loop and One Superior Place in the Gold Coast.
In addition, the company is now offering fine quality rates at select corporate housing properties in naperville, Lombard, Lisle, Downers Grove and Oakbrook. For the first time, Manilow Suites is offering choices. From project managers, interns and executives, you select what you want.
The Manilow Suites collection includes everything from studios to three-bedroom units, all impeccably furnished to Francine's personal standards of excellence. "Our 'typical' client is anything but typical," she points out. "Many are upper echelon executives with Fortune 500 companies; however, from students to vacationers, they are all given individual service with the same level of quality, comfort and luxury in their accommodations. Our success is based on delivering exactly that."
The same can be said for Manilow Suites' guest services, which rival those of world-class hotels. Fine linens, paper products and a choice of soaps are provided throughout their entire stay. Weekly housekeeping is also included, with the same housekeeper every week. Extended cable TV with premium channels and Internet service are provided free of charge. And 24-hour emergency service is always just a phone call away.
It's a formula that has been, as they say, often imitated, but never duplicated. And with Francine Manilow at the helm, it's not likely to be matched in the future.
"When I started this company, I was working as a flight attendant for United Airlines. During that time I learned the rights and wrongs of customer service," she says proudly. "In the past two years, I've housed over 200 executives, middle managers and crew for a major airline. They all said they would 100% recommend Manilow Suites." In between, she's been the recipient of some of the most prestigious awards bestowed on women in business, including the Office Depot Business Woman of the Year, NAWBO Chicago Business Woman of the Year, CHPA Member of the Year, and the WBDC Entrepreneur of the Year.
But while honors are nice, they're no substitute for the action of making Manilow Suites even better.
"We're all about meeting the challenge of finding new and better ways to deliver the finest short-term corporate housing in the world," she says. "I find that as exciting and energizing today as I did in 1980. The last 33 years have been great. But this year will be even better."
About Manilow Suites
Founded in 1980, Manilow Suites is Chicago's oldest and most successful provider of elite short-term corporate housing for executive clientele, offering luxury rental units in elite high rise buildings in the city's premier neighborhoods and select western suburbs. For more information, call 877.MANILOW or visit http://www.manilowsuites.com.