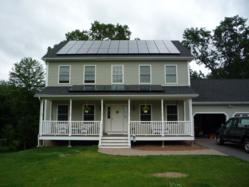 Brookfield, CT (PRWEB) March 24, 2013
Since 2004, over 2,700 homeowners in Connecticut have installed solar electric systems. However, with an average installed cost of $22,000 after state rebates for an average-sized solar, solar ownership has been out of reach for many Connecticut homeowners. Today, Ross Solar Group announced a new strategic partnership with Sungage, a financial services company committed to helping more people own solar. Through this partnership, Ross Solar Group hopes to enable more Connecticut homeowners make a smart investment in solar.
"Solar can be a great investment for homeowners, but the upfront cost keeps this opportunity out of reach for many. We built Sungage to serve the needs of customers who want to make a smart investment and own." said Sara Ross (no relation to Ross Solar founders), Co-founder and CEO of Sungage.
The Sungage Loan, now available through Ross Solar Group, will provide an opportunity for homeowners to own solar PV with an affordable down payment and low monthly loan payments. The Sungage Loan is a 15-year loan product that can be used to finance the installation of a solar electric system that meets state rebate requirements. The loan does not require any home equity or a lien on the home.
In addition to the Sungage Loan, Ross Solar Group customers will also have free access to a unique online tool called the Solar Wealth™ Calculator. A Ross Solar representative designs a system that meets their customer's needs, and the Solar Wealth™ Calculator uses information such as system size and cost to provide an estimate of the value a homeowner can generate through solar ownership.
"We found that many customers were thinking about going solar, but wanted a better idea of the economic value of owning and installing solar," Josh Ross, Partner and Sales Manager. "The Solar Wealth Calculator helps our customers understand how the income generated by a solar electric system, such as tax credits and electricity savings, can help them pay for a system over time."
For more information on the Sungage Loan or the Solar Wealth Calculator, contact the Ross Solar Group team at (203) 512-4500.
About Ross Solar Group
Ross Solar Group is a turnkey solar design and installation company. Family owned and operated since 2007, RSG has installed over 350 solar energy systems. RSG has installed commercial systems for companies like Pfizer, Walmart and Bed Bath &Beyond and RSG has also been selected by the CT clean energy fund to install PV system on behalf of eleven municipalities state wide, including Westport, New Haven, Stamford, Woodstock, Amity and others.
About Sungage
Sungage is a financial services company that is committed to helping more people own solar. Sungage created the first loan for residential solar that allows homeowners to own solar electric systems from day one, without requiring home equity or a lien on the home. For more information, please visit http://www.sungage.net.