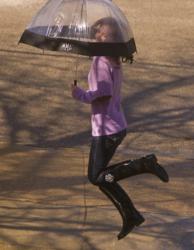 Cincinnati, OH (PRWEB) March 25, 2013
The upcoming season is not a pretty one… soaked streets, muddy fields and grey skies tend to bring one's mood-- not to mention one's stylish shoewear options-- down. This year, it's possible to add some comfort, elegance and cheer to spring wardrobes (and splash away some of those winter blahs) with a pair of equestrian-style weatherproof riding boots by Zoubaby.
In addition to keeping one's feet warm and dry, Zoubaby boots can be personalized for women to enjoy a look that's uniquely theirs. With four monogram styles and eight colors to choose from, the options for customization are extensive. Zoubaby boots are available in both women's and children's sizes, so a distinctive footwear style can be achieved by all.
In honor of spring shower season, Zoubaby is offering a special discount of $20 off every pair of women's and children's boots, bringing them to $78 (regularly $98) and $45 (regularly $65) respectively.
New for Spring 2013- A Personalized Umbrella
Zoubaby's new monogrammed umbrella means no more mistaken umbrella mix-ups. Plus, it is a great way to stand out in a crowd and, most importantly, stay comfortable and dry. And at a special price of $20 from now 'til the end of spring, there is no reason to ever be "generic" again!
ABOUT ZOUBABY:
Zoubaby's founder, Bridget Davis, is a Cincinnati native and a mother of four. She founded
the company when she had finally worn out her favorite leather riding boots. She realized that she needed to find a longer-lasting alternative that would meet her need for comfort and quality but also reflect her stylish flair. Endlessly creative, she experimented with a pair of her daughter's rubber rain boots and a monogram machine. Ta da, Zoubaby boots were born!