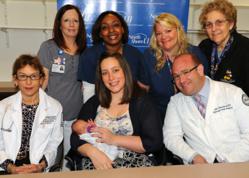 Great Neck, NY (PRWEB) March 25, 2013
Kaylee Henriquez knew that she was in for a difficult pregnancy. She was living with glomerulonephritis, an extremely rare kidney disease that resulted in massive swelling and very high blood pressure. She fell into the high-risk pregnancy category because her kidneys were failing. Refusing to give up on the idea of having a successful pregnancy and delivering a healthy baby, she came to the North Shore-LIJ Health System's Raggio Nephrology Institute and enlisted the support of Ilene Miller, MD, medical director of the Waldbaum Dialysis Center in Great Neck.
During a news conference on Thursday to celebrate the three-week birthday of baby Mateo, who was born on February 27, Dr. Miller explained that Ms. Henriquez's condition was so rare "that we don't even have numbers or research on which to rely." For that reason, Dr. Miller stressed the need for a registry that would monitor the number of women in the US on dialysis who become pregnant during the time of their treatment. "Kaylee's condition, glomerulonephritis, is so rare that there were only 10 such cases known in this country in 2008," said Dr. Miller. "Just like there are kidney registries, we need a monitoring service to be able to gather research and offer these young women hope for their futures."
Victor Rosenberg, MD, a high-risk pregnancy specialist who delivered Mateo via caesarian section, congratulated the 26-year-old mother for her courage during her pregnancy. To ensure her safety, Dr. Miller directed Ms. Henriquez to undergo dialysis six days a week, four hours a day, beginning in her 16th week of pregnancy. As the pregnancy progressed, Dr. Rosenberg recalled, Kaylee agreed to have her dialysis in the Labor and Delivery unit of North Shore University Hospital, from Monday through Sunday, eight hours a day. "Nothing gives me more pleasure than to congratulate this very brave young woman on the birth of her beautiful son," he said.
Holding her baby tightly during the press event, Ms. Henriquez said simply, "I knew I was in the best of hands and that I just had to have faith that everything would turn out well. I know I caused my doctors sleepless nights and some gray hairs, but we were all in this together. Obviously, I'm glad I decided to go forward with my pregnancy. It's my hope that continued research will help other young mothers who are facing the same challenges."
To view a clip of Ms. Henriquez and baby Mateo, go to: http://www.northshorelij.com/hospitals/video-library?channelId=123432bc283e421da3e31e3377f2c7f6&channelListId&mediaId=633c266053074c6ab327aec1f604c01e