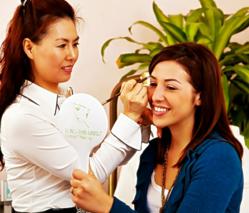 Initial questions are important in order to understand who the technician is and if they are running a sincere and professional business.
Beverly Hills, CA (PRWEB) March 25, 2013
There's a higher demand for permanent make-up and Long-Time-Liner® asks, who wouldn't want to wake up looking beautiful, refined, and polished in the morning? Most people have asymmetrical features, shrinking eyes, or disappearing brows which they rely, heavily, on makeup to fix every day. Swimming, sweating or even touching the face can ruin all made-up efforts. Not to mention, waking up with no make-up on, or waking up with eyeliner and lipstick smeared all over the pillow are less than desirable choices. Permanent, Tattoo, and most recently Semi Permanent Cosmetics can be the solution.
To begin searching for a technician to provide the permanent make-up services, a referral from a friend with the same service is usually best. If that's not an option, then start online. Look up local permanent make-up salons; ask make-up artists and stylists for recommendations. Plastic surgeons and skin care specialists may also have valuable contacts. Seek out a respected and well known technician with an established clientele and then research them.
Most permanent make-up technicians will offer consultations, and they are usually free. Schedule one and get there a little early. When making the appointment, notice the details of whoever answers the phone. Are they pleasant? Are they informative or do they seem busy or distracted? Is the technician or the receptionist interested in more information about the desired results for the customer? These initial questions are important in order to understand who the technician is and if they are running a sincere and professional business.
When arriving at the appointment, take note of certifications. Technicians should post their licenses and permits in a conspicuous area. There are several requirements which vary from city to city. The most obvious are Health Board permits or certificates of registration. This proves that the technician is recognized by local health authorities. They would have to pay fees, provide proof of insurance, and receive proper health training in order to register with the Health Department. Training in Blood-borne pathogens is not required by all cities, but technicians should have taken and passed a course, and have proof of completion. This means the permanent make-up technician knows about sanitation and proper protocol for disposal of hazardous waste and risks of all communicable diseases.
Another certification to look for is from a permanent cosmetics training and/or product company. If the technician uses a certain machine, or specific brands of pigment, he or she should have been properly trained on that machine and those products. They will have a certification or license from the manufacturer stating that they received training by a certified trainer to use their machines and pigments correctly.
During the consultation, the technician should ask questions about individual style and desired outcome for all procedures. Technicians should adequately explain the service, aftercare instructions, what to expect from the healing process, and mention common concerns that clients might have.
The permanent, semi-permanent, or tattoo make-up technician should provide a preliminary drawing or make-up application with removable make-up pencil. This shows the client how the pigmentation may look after the service is complete. The drawing should convince the client to go through with the service. The technician must prove her skill at making the client look her best. This is an important part of the consultation, and should not be hurried-through or look messy.
When all of these requirements are met by the technician, the client can rest assured that she will receive a professional and detailed service that shall result in a beautiful and enhanced face. After receiving the service, if it has met all expectations and is delivered by a friendly and experienced technician, the client should be happy enough to send all her friends to her new permanent make-up technician!
Long-Time-Liner® is located in Beverly Hills California, at the heart of the beauty and luxury product center. There have been many beautiful and satisfied customers from all age groups, nationalities and personal style. Semi-Permanent Conture® Make-up can make a significant improvement to anyone's beauty. You are encouraged to contact the salon for more information and to book a consultation!