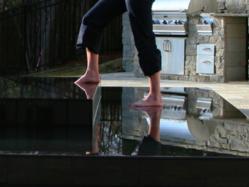 We strive to provide our clients with not only the best in pool designs, but complete turnkey outdoor environments.
Atlanta, GA (PRWEB) March 29, 2013
Atlanta landscape architecture company, Selective Designs (SD), is featured in the Spring 2012 edition of Luxury Pools magazine which highlights the company's "Black Pool" - one of their most awarded and recognized pool projects. This custom one-of-a- kind pool is designed totally unique and in complete union with its surroundings. The design has a 100 percent perimeter overflow system, totally silent enhancing the serenity of the pool. The pool features a hidden path just below the surface providing a "walk-on-water" effect when accessing the spa. This luxury pool and spa combination was masterfully designed to provide a relaxing oasis where family and guests can relax and enjoy the outdoors in harmony with nature.
Selective Designs' commitment to excellence shows in its luxury pool designs and award winning landscape architecture projects. President, Shane LeBlanc has invested years of learning from industry experts in landscape architecture and pool design to become a leader in delivering complete outdoor environments for homeowners. Under Shane's leadership the company now provides all of the landscape architecture capabilities and components needed to design, develop, and transform a home into an outdoor paradise.
The company has resources dedicated to project planning, detailed concept design, project execution and client follow-up. From the first meeting until project completion, Selective Designs can take landscape architecture projects from an initial concept to a completed outdoor masterpiece. Selective Designs has received multiple awards for swimming pool designs and landscape designs including Pebble Technology's World's Greatest Pool Design and Landscape Design for Spring & Winter 2012 and the Global Aquatekture Visionary Award (GAVA) for their Atlanta Infinity Pool Design. The Atlanta Journal Constitution and Lifestyle magazine have featured articles focused on Selective Design's work.
Shane LeBlanc commented on the "Black Pool" and the companies continued growth, "We are really excited about the "Black Pool" project because it gave us a great opportunity to come up with a unique pool design. Being highlighted in Luxury Pools gives us a chance to showcase what can be done when it comes to cutting edge pool designs even in the smallest backyards and outdoor spaces. We strive to provide our clients with not only the best in pool designs, but complete turnkey outdoor environments including outdoor living rooms, fireplaces, water features, landscaping, irrigation systems and lighting. As our company continues to grow, we are eager to help even more clients fulfill the dream of a backyard you can truly enjoy."
Selective Designs creates custom pool and landscape designs based on the client's concepts and desires. They are located in Peachtree City, GA and serve all of Atlanta and the Southeastern United States. Selective Designs along with its sister companies, Georgia Sprinklers, Georgia Aquatics, Select Group and Exterior Makeovers provides custom pools, spas, hardscapes, landscapes, irrigation, and outdoor lighting all from one location. To find out more details or to schedule a consultation, Selective Designs can be reached by phone (770) 631-1550 or by email. Selective Designs' website and web marketing services are provided by Atlanta SEO Company, Interactive Search Marketing.