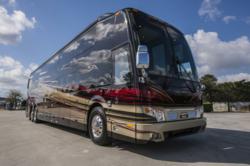 There's no question we're on a roll. By the end of the month, we expect to have delivered 23 motorcoaches to their new owners since January 1.
Chicago, IL and Stuart, FL (PRWEB) March 25, 2013
Wintertime is always prime time at the Liberty Coach dealership in Stuart, Florida, but this year the traffic has been unusually high – with people very eager to buy a luxury Prevost bus conversion.
"Twenty-five sales so far this year – it doesn't get much better than that," Liberty Vice President and co-owner Frank Konigseder comments. "But what makes it even more impressive is that we're coming off one of our best years ever. There's been no letup at all."
Frank is optimistic that the trend will continue. "There's no question we're on a roll," he says. "By the end of the month, we expect to have delivered 23 Prevost motorcoaches to their new owners since January 1.
"As for demand, it just keeps growing and growing," he continues. "Consider that we've already contracted eight of the 14 total coaches slated for production during 2013. You have to love that kind of consistency."
Activity has been every bit as strong on the pre-owned motorcoach side of the business. As of March 14, inventory at the dealership included 14 pre-owned and consignment coaches for sale, ranging from a 2000 Liberty Coach Classic with matching trailer, to a 2011 Marathon Edition Double Slide.
"The depth of our inventory is a huge asset for our sales team," Frank points out. "It gives people visiting the dealership for the first time a much clearer idea of the variety of coaches available, and the range of price points. They also get a chance to see first- hand the advantages of buying a pre-owned coach from us versus anyone else. Quality, service, customer care – Liberty Coach sets the standard in every department."
You'll see exactly what he means by visiting the Liberty Coach dealership in person at 635 SE Monterey Rd. in Stuart – about a 20-minute drive southeast of Port St. Lucie on Florida's Atlantic Coast. On the West Coast, stop by Motor Coach Country Club in Indio, California – just outside Palm Springs – where the company keeps a coach on display and available for private showings by appointment. Or look for Frank or another representative of the Liberty Coach team at one of the many rallies and events listed on the company's website.
Wherever you see a Liberty Coach, you'll get a taste of what continues to turn shoppers into buyers, month after month.
"Sure, we're proud of the numbers," Frank says. "We're prouder of the coaches and the people behind them."
With locations in Stuart, FL and North Chicago, IL, Liberty Coach has been providing legendary leadership in the luxury motor coach industry for over 40 years.
For more information about Liberty's custom Prevost motor coaches, please visit http://www.libertycoach.com or call 800-554-9877.