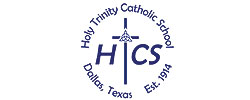 Dallas, TX (PRWEB) March 24, 2013
With the concerns over education in America becoming a hot topic, many families are considering what option works best for their children. Catholic schools are noted for their quality academics, and are becoming a more popular option. Holy Trinity Catholic School in Dallas uses a standards-based curriculum designed to educate the whole child, build character, and develop teamwork.
Catholic Schools offer class sizes that are smaller, allowing more individual or small group attention for each student. Many Catholic schools promote community; families are more involved and the students are expected to volunteer to develop responsibility and compassion. Families considering Catholic schools are invited to attend open houses where they can speak to the school staff and meet parents who currently have children enrolled in Catholic education.
Holy Trinity hires highly qualified, nurturing teachers and staff who are committed to helping each student achieve success in learning. Their diverse population (cutting across all socio-economic levels, ethnicities, and faiths) represents a cross-section of the Dallas Metroplex. This exposure offers a solid foundation for knowing how to live and work with people of all backgrounds.
Students at Holy Trinity learn to serve others. In the tradition of St. Vincent DePaul, students, staff and families help those in need through service activities to the poor and those who live in the community.
Catholic Schools offer faith-based education with a strong value structure integrated into every subject. Holy Trinity believes this generates respect for others, value in oneself, and a base for being the best one can be.
For information about admission to Holy Trinity Catholic School and their April 5 open house, visit http://www.HTCSDFW.com.
<br>About the School:<br>The mission of Holy Trinity Catholic School is to provide each student the highest quality Catholic education through a well balanced curriculum, emphasizing mind, body, and spirit. Students of Holy Trinity Catholic School will develop a Catholic value structure in the Vincentian tradition and will acquire the tools to master the necessary academic, social, and technological skills needed for higher education. Students will develop an appreciation for lifelong learning.