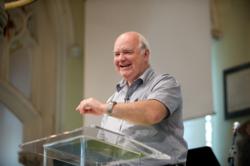 Philadelphia, PA (PRWEB) March 25, 2013
He's debated prominent atheists like Richard Dawkins, written bestselling books like "God's Undertaker: Has Science Buried God?" and is an amateur astronomer. But what really drives John Lennox are the big questions like: How did the universe begin? How did life start? How did complex living things arise?
Dr. Lennox will explore these big questions and more when he speaks at the fourth annual Westminster Conference on Science and Faith on April 5-6, 2013 at Covenant Fellowship Church in the greater Philadelphia area.
This year's theme is "How Did It All Begin?" and besides Lennox features speakers such as leading intelligent design theorist Stephen C. Meyer, author of Signature in the Cell: DNA And the Evidence for Intelligent Design; Westminster Theological Seminary theologian Dr. Vern Poythress, author of Redeeming Science; and molecular biologist Dr. Douglas Axe, co-author of Science and Human Origins and Director of the Biologic Institute.
Dr. Lennox is available for interviews beginning Tuesday, March 26th. Interview requests should be directed to Ralf W. Augstroze, ralf(at)pensmore(dot)com (267) 374-9171.
The conference will also include the national premiere of a new short film about "C.S. Lewis and Intelligent Design," which tells the story of how the famous Christian writer became convinced there was evidence of design in nature. The premiere will include a discussion with Dr. John G. West, editor of the book "The Magician's Twin: C.S. Lewis on Science, Scientism, and Society."
The conference will run from 2:00-8:30 p.m. on Friday April 5th and 8:45 a.m.-5:00 p.m. on Saturday April 6th. Sessions will examine topics such as the origin of the universe, the origin of life, the origin of biological information, the origin of complex life, the "Cambrian Explosion" and the challenge it poses to modern Darwinian theory, new empirical evidence about the limits of Darwinian natural selection, C.S. Lewis's insights on evolution and intelligent design, and bioethics and human dignity.
A full agenda and registration information is available at http://www.scienceandgod.org/wts. Media professionals with appropriate press credentials can obtain a press pass by e-mailing Sam Wall at samw(at)discovery(dot)org.