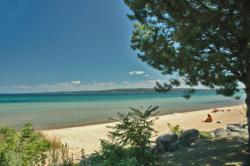 Traverse City, MI (PRWEB) March 26, 2013
Fodor's Travel has named Traverse City one of America's 10 Best Small Towns.
"For years, this town of 14,894 on the shores of Grand Traverse Bay has tempted visitors with its natural wonders, which include freshwater beaches, skiing areas, forests, and the stunning Sleeping Bear Sand Dunes National Lakeshore," said writer Sandra Ramani. "More recently, though, it's the food scene that's creating a buzz, thanks to kudos from magazines like Bon Appétit and chefs like Mario Batali, who makes his home here in the summer."
The list included such destinations as Healdsburg, Calif., Bozeman, Mont., Sedona, Ariz., St. Augustine, Fla., Provincetown, Mass., Brattleboro, Vt., Door County, Wis., Galena, Ill. and Walla Walla, Wash.
All 10 were chosen, explained the respected travel site, because they "are attracting visitors with an often unexpected — and surprisingly sophisticated — array of independent and locally minded cultural, outdoor and culinary offerings, all minus the urban price tags."
"It's just continuing the string of great accolades we've had over the last several years," said Brad Van Dommelen, president of the Traverse City Convention & Visitors Bureau. "It continues to keep Traverse City in a very great limelight that really helps create interest and awareness across the nation."
A small coastal resort area on the northwest coast of Michigan's Lower Peninsula, Traverse City has long been treasured by Michigan residents for its matchless scenery, colorful history, imaginative cuisine and laid-back friendliness, as well as the low humidity, warm sunshine and cool coastal breezes that make its summers so comfortable. Until recently it has remained relatively unknown outside the state, but word has been spreading quickly during the past few years.
In the past year, National Geographic has named Traverse City one of its Top 10 Summer Trips for 2012, while the Travel Channel ranked it among the Top Seven Beer Destinations in North America, Budget Travel called it one of the 11 "Coolest Winter Places in America," and Money Magazine ranked it among the Top 25 Best Cities to Retire. In January the online travel site Away.com named Traverse City to its list of ten "Best Four-Day Vacation Spots" for 2013.