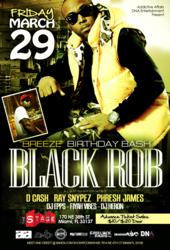 Miami,FL (PRWEB) March 22, 2013
The legendary Black Rob, famously known for his "Like Whoa" track and appearing on appearing on the Bad Boy remix to 112's "Come See Me", remixes to Total's "What About Us" (1997) and Faith Evans's "Love Like This" (1998), the single "24 Hours to Live" (1997) from Mase, will be at The Showroom on March 29th from 6pm-8pm and available for interviews and drops.
Please RSVP with me so we can put you in the appropriate time slot. Napps(at)8and9(dot)com
Black Rob will also be performing that night at The Stage along with Miami artists D. Cash, Ray Snypez, and Phresh James along with Breeze305 birthday.Get your tickets here: Tickets To Black Rob At The Stage.