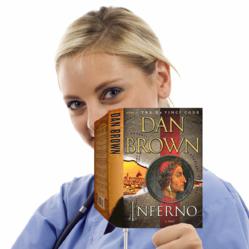 Los Angeles (PRWEB) March 26, 2013
Robert Langdon, the hero of Dan Brown's novels, would enjoy the detective work that led to this compelling book review of "Inferno" recently published in the USA by historian Sanford Holst. It comes after the worldwide distribution of this novel's prologue, first chapter and official teasers. The review brings some good news and bad news for "Da Vinci Code" fans.
Especially intriguing in "Inferno" is the woman who comes to Langdon's bedside early in the novel, Dr. Sienna Brooks. Yes, this is Dan Brown writing, so it takes place in a hospital rather than in romantic moonlight. Even so, she is captivating. In her early thirties, she appears before him in blue scrubs with her blond hair tied back into a ponytail that swings behind her as she comes to him. Will she be a major player in what is to happen? Do birds fly south in winter? Take that as a "Yes."
See the complete review of Dan Brown's "Inferno" here.
Noted historian Sanford Holst brings wry insights and historical perspective to this review. His most recent book explored the extraordinary lives and fiery deaths of many Knights Templar, which inspired Dante to write his "Inferno" in the 1300s. This newly published "Templar Inferno" vividly brings to life the actual people and events Dan Brown drew upon for his novel.
"Hundreds of Templars were burned to death but many more survived, and we even know intriguing details of their lives," said Holst. "The knights who refused the pope's order to surrender were forced to live in secrecy outside the law. Their rebellious underground activities played a role in the fall of kings and the weakening of the Vatican." This is Dante's world, and a great setting for a Dan Brown thriller.
Santorini Publishing has brought out "Templar Inferno" as part of its focus on new views of popular subjects in history and the modern world.