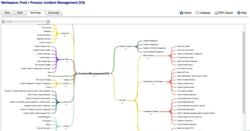 Our goal is to make process management an effortless task in every organization.
Toronto, Ontario (PRWEB) March 25, 2013
Navvia, a leading Business Process Management company, today announces the release of Navvia Essentials, the next evolution of its SaaS offering to improve the efficiencies of designing and documenting IT Service Management (ITSM) or other business processes.
David Mainville, CEO and Co-Founder of Navvia, says "We are passionate about process management and this latest release, our 10th, represents a great milestone for Navvia and our customers. Navvia Essentials makes it really simple for any user in your organization to access information on the processes that impact their daily life. We are excited to offer this enhancement at no additional cost from a licensing standpoint."
"Navvia Essentials simplifies the publishing and dissemination of your process documentation in a simple end user portal. With Navvia's approach to BPM, you can focus on your business outcomes and not be stuck in the weeds learning a complex design and documentation tool," says Mainville.
Navvia customers, such as David Angileri from Experian, who participated in advance demonstrations of the Essentials release are very excited to start leveraging the enhanced capabilities. David says "I have always been a fan of the Navvia product suite, however prior to the Essentials release, we limited access to process owners for maintaining their documentation and tech staff responding to assessment surveys. I am looking forward to the new release as it will allow us to expand access to our tech, management, and business staff with ease; providing them with a simple to use portal for viewing our process documentation, training material and surveys."
When asked "What is the goal of Navvia Essentials?" Mainville says, "Our goal is to make process management an effortless task in every organization."
Navvia's technology is a BPM toolkit designed to strip away complexity and is equipped with features such as:

A survey tool to evaluate the health of existing processes and quickly identify improvement opportunities
A design tool to build, improve, document, and communicate processes visually and dynamically throughout the organization
A requirements definition tool to gather specifications for process automation
An automated verification tool to establish controls and confirm compliance through the collection of evidence
A learning platform which provides unlimited access to ITIL and business process management training
About Navvia
Navvia is a tech-enabled ITSM software and services company founded in 1999 that is passionate about helping organizations improve their business objectives. This has been proven by assisting some of the most recognizable companies and brands over their 14 year history. Customers include Fortune 100, education and government organizations around the world.
For a free test drive http://www.navvia.com/tools/test-drive
To hear what customers are saying http://www.navvia.com/reviews