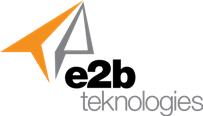 e2b teknologies was nominated as a 'top 5' finalist in two of the competitive categories, "Best Small Company Internship" and "Best Intern."
Chardon, Ohio (PRWEB) March 25, 2013
E2b teknologies was honored to be in the running as one of the top internship programs in the region with the company's nomination as an Expys Internship Award Finalist. The Northeast Ohio Council on Higher Education (NOCHE) and Cleveland Business Connects Magazine (CBC) present these awards to recognize the best experiential learning programs in Northeast Ohio. NOCHE and CBC celebrated e2b teknologies and the other nominees on March 20, 2013, during a ceremony at the Crowne Plaza Hotel in Independence, Ohio.
Competition was stiff as there were approximately 300 companies who applied for the awards; e2b teknologies was nominated as a 'top 5' finalist in two of the competitive categories, "Best Small Company Internship" and "Best Intern." An independent panel of judges looked over all of the nominees' applications which covered topics such as projects completed, program structure, assessment of interns, training opportunities, work atmosphere, relationships built with co-workers, and many other aspects which make up an internship.
"We were so proud to be able to call ourselves a finalist for the Expy Awards," said James Mallory, Marketing Director at e2b teknologies, "our internship program is new, so being recognized as one of the best in our region this early on is huge."
e2b teknologies has had four interns in 2012 in both the marketing and web development departments of the company; Two of which went on to become fulltime employees in the marketing department. The company recognizes the importance of internships in helping students gain real world experience as they enter the workforce after college, while appreciating the new ideas interns bring into the company.
"An internship provides a student with experiences and information they could never learn in a classroom," says Mallory. "Working in an office and learning how to work with co-workers is something that cannot be learned in a book. We give our interns projects that they can really learn from, encourage them to make suggestions, share their ideas, and voice their opinions. We do our best to make them feel like a part of the team during their time here."
About e2b teknologies:
e2b teknologies provides cloud-based business software applications and business services to progressive businesses worldwide. e2b enterprise develops custom cloud-based business applications and resells leading ERP accounting software, CRM, HRMS, and other enterprise business software applications from Sage Software, Epicor, Intacct, Sugar CRM, and other publishers. e2b anytime apps is the publisher of Anytime Collect, Anytime Assets, Anytime 500, and related Anytime brand products. e2b calibration is an ISO/IEC 17025 accredited calibration laboratory.