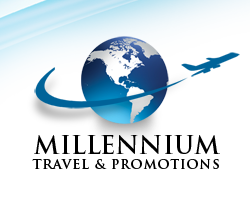 Orange Park, FL (PRWEB) March 25, 2013
Business professionals have to take many steps today to be successful. They must find and retain the most talented team of professionals to work for them, and they must provide their existing customers and clients with continued incentive to maintain a relationship with them. They may also need to find a way to establish relationships with new customers. With great managerial skills, service-oriented approach for clients and other skills can go a long way to ensuring professional success, there are times when an extra touch is needed. Many business professionals today are relying on Millennium Travel & Promotions to improve relationships with their team and their clients alike.
Millennium Travel & Promotion is among the most highly rated travel companies that is easy to work with. They specialize in providing corporate professionals with an easy way to give bonuses and special gifts to their hard working staff and their clients. Gift cards for local restaurants and stores are one option, but often, this type of gesture just doesn't seem substantial enough. A travel certificate, however, may provide the ability to make a grander gesture that is far more appreciated than other options available.
Through Millennium Travel & Promotions , people can purchase travel vouchers and gift certificates that can be redeemed for hotel or resort accommodations, air travel, tours and various other travel needs. Depending on the face value of the voucher purchased, it may give someone a full vacation or a weekend away from home, or may simply help them to maximize the fun they can have on a vacation that they were already planning to take.
Business professionals have been looking for a great way to retain their top talents, to improve marketing and sales efforts or to accomplish other related goals. Travel certificates by Millennium Travel & Promotions are one option, but they certainly may want to consider all of the different ways that they can be put to use by a company. For example, they can use them as a marketing tool, such as with a contest for customers during a slow period of sales or as part of a referral program to boost sales. They may be issued to employees who beat their sales goals or who exceed productivity goals in some way. They can be given away as part of an existing customer appreciation program or in another way that will allow them to gain a competitive edge over their competition.
The fact is that gift cards to local restaurants and shops are available as one solution that can be put to use, but they may not make the same impact on a team or customers as travel vouchers would. When a business wants to really celebrate a milestone or accomplishment with their team, encourage clients to continue to do business or achieve other goals that require a greater incentive. Take a closer look at how Millennium Travel & Promotions can benefit everyone in business both staff and customers.