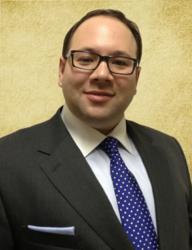 "Shlomo's insights into and knowledge of the world of CMBS debt, the rules and regulations governing it, and the nuances of developing workout strategies for borrowers and lenders are unparalleled." - Fred Cordova, Colliers International
New York, NY (PRWEB) March 25, 2013
This month Real Estate Forum has issued its "67th Annual Review & Forecast Issue" in which it recognized Case Property Services (CPS) Managing Member Shlomo Chopp among "Tomorrow's Leaders" in New York commercial real estate. Citing his positive track record in advising owners of distressed real estate, the recognition highlights Chopp's unique approach to successfully resolving properties distressed properties and loans.
Addressing a sore need for multi-disciplined property turnaround specialists, Case Property Services has been effectively guiding commercial property owners in taking a "property first" approach to resolving distressed assets. A key focus is negotiating with Special Servicers -- the parties responsible for resolving distressed loans on behalf of the Commercial Mortgage Backed Securities Trusts.
"Shlomo Chopp is the most intelligent and thoughtful consultant in the world of CMBS debt that I have met," said Fred Cordova, Executive Vice President of Collier's International, who recently worked on a distressed project with Mr. Chopp. "Shlomo's insights into and knowledge of the world of CMBS debt, the rules and regulations governing it, and the nuances of developing workout strategies for borrowers and lenders are unparalleled. He has taught us a great deal and been invaluable to our platform."
Prior to CPS, Chopp spent time in the real estate technology industry where he advised New York City's real estate brokerage firms in the utilization, customization, and integration of brokerage management software. Simon Ziff, President of the prestigious real estate finance firm Ackman Ziff who has known Shlomo since 2003, including his time in real estate technology, commented "Shlomo's approach to his work has always been to tackle and improve on market inefficiencies. This recognition of his talent is well-deserved."
While intended to be the subject of the workout, often a distressed property's financial viability is a casualty of arbitrary "horse trading." Under Chopp's leadership CPS follows an education and analysis driven approach to bridge the knowledge and communication gap between the borrower, equity partners, and special servicers/lenders.
"To be recognized by a prestigious publication such as Real Estate Forum is truly an honor," said Mr. Chopp of the announcement. "I will continue working tirelessly in adding value to the real estate community, and help real estate owners successfully resolve their distressed properties and debt. My ultimate and ongoing goal continues to be fulfilling the high expectations of my clients and investors."
ABOUT CASE PROPERTY SERVICES:
Case Property Services (CPS) is a Distressed Debt Advisory firm specializing in CMBS loan restructuring, property turnaround, and profits based performance improvement. CPS has been involved in over $400 Million of distressed asset restructurings, and delivers specialized consulting and industry expertise to real estate stakeholders seeking to overcome challenges, accelerate profitability and maximize value of their real estate. http://www.caseps.com.
To follow the latest news and announcements from Case Property Services, visit http://Blog.CasePS.com.
####