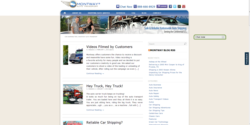 The Auto Transport Tips section if of equal importance to customers!
Chicago (PRWEB) March 22, 2013
Montway recently redesigned the look of the whole website except the blog - the auto transport tips section. Today, the blog was updated as well with a new design making it easier to showcase the variety of educational and entertaining content Montway publishes on their blog. Montway is known for providing reliable car shipping services and online vehicle shipping quotes to help prospective clients calculate their shipping costs. However, educating and informing the customers is equally important to the company and the car shipping tips section's redesign stands for that.
The new design resembles montway.com design except for the main content part and the sidebar. The main content section is where customers will see the featured posts as well as the chronological order of the latest articles. In the right sidebar, the visitors are introduced to the most recent posts and the categories enabling easy access to what interests them the most. Below that are the social media feeds displaying current social media news stream.
Moving into the age of social media and digital communication – Montway made it possible to share quotes online through Facebook, but for the car moving tips section the company enables sharing of the content on all the major social media platforms.
"Users can read, rate and share the content easily directly from the page. The comments section is enabled as well because we know it is crucial to let people voice their opinion," said Vasi A. Marketing Coordinator at Montway.
One of the most important features is that the blog, like the website, is mobile responsive. Reading and navigating is now easy on all devices across the board. Customers can also be on the lookout for a mobile app soon.
ABOUT MONTWAY AUTO TRANSPORT
Montway Auto Transport is a five star customer rated, car moving company based just outside Chicago in Des Plaines, Illinois. By providing fast, secure and reliable door-to-door automobile transport Montway's earned the trust of car dealers, classic car collectors and everyday car owners alike. They offer free online auto transport quote's and affordable car shipping services.
Because they move over 20,000 vehicles a year, they not only maintain a private fleet of open and enclosed car carriers, they're also licensed to access to independent vehicle hauling fleets nationwide. So whether you need your car transported from Florida to California, your van shipped from Texas to Massachusetts or your truck moved from New York to Illinois; Montway has you covered! Just visit them online at Montway dot com or call 888-666-8929 to speak to a vehicle relocation specialist today.