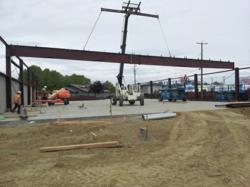 This opens the door for anybody that builds a large volume of retail outlets and is looking for a better solution.
Fort Lauderdale, FL (PRWEB) March 26, 2013
When a developer for Dollar General, the discount retailer with the most outlets in the country, wanted to find a way to put up the small-box retail stores on-time, more efficiently and with fewer mistakes along the way, they turned to Allied Steel Buildings. The result: Allied Steel Buildings delivered a prefabricated steel building to the job site within the promised seven-week time frame – with no hiccups.
The company's in-house team of designers, engineers and project managers all worked to ensure the delivery of accurate drawings and precisely engineered building materials — all while staying in constant communication with the developer.
"They were looking for a different solution than what they were used to," said Chris Rucker, Allied Steel Buildings' Director of International Accounts. "They know if you call our office, you're going to get a response within minutes."
Sometimes that can be a challenge when ordering factory direct since the factories have to balance volume manufacturing and client service.
The major difference between Allied and most industry manufacturers is Allied covers 100% of the project management under one roof ensuring continuity throughout the design, fabrication and construction process. This unique process ensures aggressive timelines can be promised by Allied without compromising the quality of the delivered materials.
Allied Steel Buildings was approached by the developer in late 2012 to build a store in California. They had challenges with project schedules and materials mis-fabrications on previous jobs. With an aggressive build schedule for 2013, they needed a new solution. Allied Steel Buildings started work in late January on the 12,500-square-foot building and promised a delivery date of March 18.
"We hit the deadline right on the nose," Rucker said.
Like the discount retailer, which promises to save its customers time and money on everyday items, Allied Steel Buildings can do the same for high-volume retail builders. The company has been offering its comprehensive engineer-design-build services for years.
As a result of the project's success, several contractors and developers have already approached Allied Steel Buildings about putting up their retail buildings. There are six similar projects already in the pipeline, Rucker said. The Dollar General project also positions the company to offer the same fast, accurate and efficient building process to other retail developers.
"This opens the door for anybody that builds a large volume of retail outlets and is looking for a better solution," Rucker said. "Our internal structure mirrors that of the developer, that's why the relationship works so well."
About Allied
Allied Steel Buildings is a leading supplier of pre-engineered steel buildings and prefabricated metal buildings systems. At Allied Steel Buildings, we offer exceptional prefab metal structures with outstanding customer service, committed to assisting you through each step of the building process. Our projects have been completed around the world, with a concentration in the Americas and the Caribbean. For assistance from our Project Managers, including design services and expert tips call 877-997-8335.