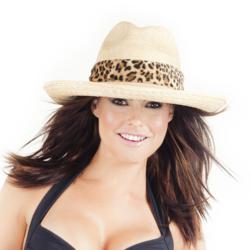 Kentfield, CA (PRWEB) March 22, 2013
SolEscapes.com an online boutique specializing in sun, beach and resort essentials is offering a limited time 15% off sale on all purchases for a 3-day sale event. Use coupon code "Spring15" valid 3/23/2013- 3/25/2013.
With spring here, summer is in sight. SolEscapes is helping customers get ready for the warmer and sunnier days ahead. They carry some of the best 2013 summer hats available on the market offering the complete collections of Gottex, Profile by Gottex and Physician Endorsed sun hats. A couple of big trends this season are Fedora's and dramatic brims. The Mallorca Fedora ($125) with a mint ombre scarf is stunning and customers are going wild for the Jungle Fever Fedora ($105) with leopard trim. Sea Breeze ($62) provides understated glamour to summer outfits. Some really cute sun hats for women are the Forget Me Knot hats ($55), a linen blend/straw combination bucket hat with flower trim and the very versatile Belle Epoque ($47) a ribbon/straw cloche hat that come in new fun color combinations: Eggplant, Café Au Lait and White/navy.
Spring brings lots of celebratory events: Easter, weddings, and mother's day.
Beautiful options for Easter celebrations are the beautiful Pitch Perfect Hats ($40) paper straw sun hats with an asymmetrical brim and bow details. This style comes in colors just right for the spring: aqua, pink and white and also in neutrals such as brown tweed with natural or black accents. The Lidas ($110), lampshade Milan straw hats would be a gorgeous option for a wedding. They come in rich jewel tone colors such as royal blue, violet, tangerine and navy or in more neutral tones. Hat wearer's would love the sophisticated colorful Yin & Yang ($40) ribbon hat for mother's day brunch. They come in 5 great color options: navy/cream, black/cream, brown/cream, fuchsia/red and turquoise/navy.
Matching hat and bag sets provide classy style for spring activities whether shopping, having lunch with friends or a weekend getaway. SolEscapes offers 3 popular styles from Global Glamour: Serengeti II, Anaconda, and Gatsby. All the hats have 50+ UPF sun protection and can be packed into the straw bag when not used.
SolEscapes is a California based online boutique offering a unique selection of stylish and practical sun, beach and resort essentials for all your warm weather needs. SolEscapes offers personalized service, high quality products and fast affordable shipping. Merchandise including all womens beach hats are carefully and beautifully packaged to ensure a perfect arrival. For more information please visit SolEscapes.com. You can also connect with SolEscapes on Facebook, Twitter and Pinterest.