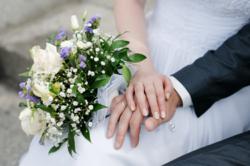 Newport Beach, CA (PRWEB) March 25, 2013
Today's social media age leaves information readily available and easily accessible. Nobody knows that better than the famous. Celebrities are finding it much harder to hide their private wedding planning from the public eye, and information is leaked quite frequently. Such is the case with singer Adele's alleged wedding plans, says Wedding.com.
Recently, The Week magazine circulated reports alleging famous singer Adele is in the middle of planning a secret wedding to boyfriend Simon Konecki (http://theweek.com/article/index/241757/the-daily-gossip-adele-is-allegedly-planning-a-secret-wedding-and-more). Although the nuptials were meant to be kept private and out of public knowledge, the information recently hit newsstands in an Us Weekly article. Similar to many celebrities before her, Adele's private celebration will likely end up under the public eye to some degree, says Wedding.com. Many celebrities are unable to contain secret plans, but they are very much aware that lack of privacy comes with the territory.
"Adele's sheer prominence in the music industry means she is always around people, and as we all quickly learn, the more people know a secret, the more likely it will be leaked," says Brett Reynolds, CEO of Wedding.com. "Adele is a smart woman though. There is definitely a possibility her leaked wedding information is actually a diversion."
For more information about Smart Registry, please visit http://www.wedding.com.
About Wedding.com
Wedding.com is an innovative new website that connects engaged couples planning their wedding with wedding vendors looking to grow their business. Wedding.com contacts vendors for couples, giving them the power to compare and negotiate while ultimately saving time and money. With 12,000 couples and 22,000 vendors currently using the website, 105,000 proposals have already been sent since their inception. Vendors range in services from wedding planners, photographers, florists, and DJs to custom invitations, party favors, and much more. For additional information about the company and its services, please visit http://www.wedding.com.