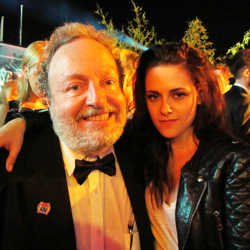 (PRWEB) March 23, 2013
Gerald Nicosia's latest addition to Beat history could not be more timely. The paperback edition of One and Only: The Untold Story of On the Road comes just in time for the release of the On the Road movie, which started showing in theaters on March 20. Nicosia's One and Only will be receiving the prestigious Acker Award, an accolade for achievement in the avant-garde.
Nicosia was recently profiled in an interview with the Pacific Sun. He describes what he calls "beatnik bootcamp," the process of educating the On the Road actors (like Kristen Stewart), about beat culture. According to Nicosia, the young stars were all avid learners, "really hungry to learn." He theorizes about the widespread and continued appeal of the Beats, claiming that "the Beat Generation will always live on in the human heart."
Join Nicosia for his upcoming presentations:

Nu-Art Series, Metropolitan Gallery, St. Louis - Reading - April 27, 2013
Salem State University - Presentation - May 3, 2013
Oxnard Film Society - Presentation - May 19, 2013
Carnegie Art Museum, Oxnard - Screening of On the Road and Q&A - May 20, 2013
Mechanics' Institute - Presentation with Brenda Knight - July 12, 2013
Gerald Nicosia's biography of Jack Kerouac, Memory Babe, won the Distinguished Young Writer Award from the National Society of Arts and Letters while still a work-in-progress. It remains widely regarded as the definitive work on Kerouac. Also the author of Home to War, Nicosia lives in Corte Madera, CA.