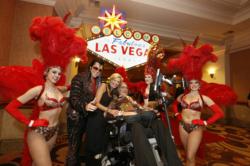 "The BASH continues to exceed our expectations every year, and this year was the best we've had yet," said Augie Nieto. "The support we receive demonstrates the true determination people have in finding a cure for this disease."
TUCSON, Ariz. (PRWEB) March 22, 2013
The Muscular Dystrophy Association announced that the eighth annual BASH for MDA's Augie's Quest held Thursday, March 21 raised more than $1.6 million to help fund research for ALS (amyotrophic lateral sclerosis, or Lou Gehrig's disease).
More than 1,000 people attended the "Viva Las Vegas"-themed event at Mandalay Bay Resort & Casino. Participants enjoyed an evening of elegance and entertainment, including live performances, dancing and auctions to help support Augie's Quest, an aggressive cure-driven ALS research initiative named for philanthropist and fitness industry pioneer Augie Nieto. Nieto has been fighting the disease since his diagnosis in 2005.
Pat Monahan, lead singer for the Grammy-winning band Train, provided entertainment for BASH guests. Award-winning CNN anchor Suzanne Malveaux, whose mother is living with ALS, served as the host for the high-end event.
To cap off the evening, a surprise $100,000 donation was presented to Nieto from Gary and Diane Heavin, co-founders of Curves, in support of the Augie's Quest initiative.
"The BASH continues to exceed our expectations every year, and this year was the best we've had yet," said Augie Nieto. "The support we receive demonstrates the true determination people have in finding a cure for this disease. We're continuously advancing our knowledge and getting closer every day to defeating ALS once and for all."
A day before the BASH on March 20, a sold-out Sentao™ Zumbathon at the Mandalay Ballroom raised $200,000 to benefit Augie's Quest.
Zumba® Fitness creator Beto Perez led hundreds of Zumba fans in a high-energy Zumbathon featuring the recently launched specialty Sentao™ Zumba, which transforms a chair into a sizzling dance partner for a Zumba class that balances, strengthens and stabilizes the core for a total-body workout.
"It's an honor to host a Sentao™ Zumbathon for such a great cause and this year we asked participants to grab a seat and take a stand to help people like my friend Augie," Perez said. "The event gave everyone a chance to dance their hearts out and keep movin' toward finding a cure for ALS."
The BASH and the Sentao™ Zumbathon are just two of the high-profile events across the country that raise funds to support people living with ALS, a rapidly progressive neuromuscular disease.
The BASH is inspired by Nieto and his wife, Lynne, who serve as co-chairs of MDA's ALS Division. MDA's ALS Division provides unparalleled support to the more than 30,000 Americans living with ALS. Since Augie's Quest was established in 2006, it has raised almost $37 million for ALS research.
"MDA's Augie's Quest has been a game-changer in moving ALS research forward and in providing hope to families affected by the disease," said MDA President and CEO Steven M. Derks. "I congratulate Augie and Lynne on an amazing night. With their unyielding determination and strength, they continue to inspire me, our Association, and everyone fighting to end ALS."
For the eighth consecutive year, the International Health, Racquet & Sportsclub Association was a gracious presenting sponsor for the BASH. IHRSA Executive Director Emeritus John McCarthy served as the BASH's event chairman. Other major sponsors for the BASH included: Atlantic Club, Zumba® Fitness, Hemelgarn Racing, North Castle Partners, Curves, Partnership Capital Growth Partners, Fitness Formula Clubs, Western Athletic Clubs, Equinox, Millennium Partners, Octane Fitness, XSport Fitness, 24 Hour Fitness, MotionSoft, Planet Fitness and Las Vegas Athletic Club.
About ALS
ALS (also known as Lou Gehrig's disease) attacks the nerve cells that control muscles, ultimately resulting in paralysis of all voluntary muscles, including those used for breathing. Average life expectancy for people with the disease is three to five years after diagnosis.
About MDA
MDA is the nonprofit health agency dedicated to finding treatments and a cure for ALS and related muscle diseases by funding worldwide research. The Association also provides comprehensive health care and support services, advocacy and education.
Over the years, MDA has led the fight against ALS, investing more than $307 million in its ALS research, services and information programs. MDA currently funds more than 250 research projects worldwide. It also operates 200 clinics across the county, 42 of which are designated as ALS-specific research and care centers.
The Association's unparalleled research, health care services, advocacy and education programs provide help and hope to more than 1 million Americans affected by ALS and the more than 40 other progressive neuromuscular diseases in MDA's program. MDA also facilitates hundreds of support groups for families affected by neuromuscular diseases.
For the latest research news and information about ALS and the other diseases in MDA's program, visit mda.org and follow MDA on Facebook (facebook.com/MDANational) and Twitter (@MDAnews).