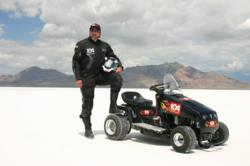 "Adding Charlotte Motor Speedway to my race resume will be another great accomplishment. I'm ready to rock and mow!" - Bobby Cleveland, Driver of the World's Fastest Lawn Mower.
Concord, NC (PRWEB) March 27, 2013
The World's Fastest Lawn Mower and its owner Bobby Cleveland, Gold Eagle's Engine Answerman, will 'mowtor' into the Charlotte Motor Speedway April 6-7 as the Food Lion Auto Fair hosts the STA-BIL® Lawn & Garden Mower Racing Series for two days of dirt track racing lawn mowers at speeds up to 60 mph.
Cleveland set the World Lawn Mower Land Speed Record of 96.529 mph at the Bonneville Salt Flats (Sept. 25, 2010) and will showcase his custom Snapper race mower as "Turf Titans" from across the country compete in bladeless competition at the "The Greatest Place to See The Race", Charlotte Motor Speedway.
"I've raced lawn mowers at the Atlanta and Bristol Motor Speedways, at the Bonneville Salt Flats and in the countryside of England," said Cleveland. "Adding Charlotte Motor Speedway to my race resume will be another great accomplishment for our STA-BIL® Lawn Mower Racing program. I'm ready to rock and mow!"
A custom-built dirt track will be created near the 5th Mile Track near the Gated Area of the Speedway specifically for the racing mowers, which compete in 11 classes with all cutting blades removed. Racing is sanctioned by the U.S. Lawn Mower Racing Association (USLMRA), where racers compete for points, trophies and bragging rights, as well as the occasional garden gnome. The USLMRA is sponsored by STA-BIL®, America's top selling fuel stabilizer.
Lawn mower racers from across the country will compete at Charlotte including members of the East Tennessee, Florida, Mason-Dixon, Michigan, Georgia, North Carolina and Ohio Lawn Mower Racing Associations along with the Alabama-based Dixie Outlaws. National and regional champions will be on site to race and visit with fans all weekend.
The Food Lion AutoFair annually attracts more than 100,000 visitors, features nearly 50 car club displays and offers a surplus of automotive parts and memorabilia for sale or trade. There's also a collector car auction conducted by Dealer Auctions Inc. and more than 1,500 collectible vehicles of all makes and models will be available for sale in the car corral that rings the 1.5-mile superspeedway.
Food Lion AutoFair is open from 8 a.m. to 6 p.m. Thursday-Saturday and from 8 a.m. to 4 p.m. Sunday. For tickets or additional information about Food Lion AutoFair or other events at Charlotte Motor Speedway, call 1-800-455-FANS (3267) or visit http://www.charlottemotorspeedway.com.