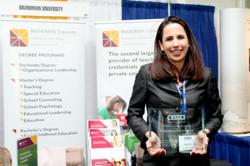 This recognition has been given each year since 2000, but I can't remember one that has deserved it more than this year's winner.
Irvine, CA (PRWEB) March 24, 2013
During its 38th Annual Conference in Monterey, the Association of California Community College Administrators (ACCCA) honored Brandman University with the 2013 Business Member of the Year Award, a recognition the organization has been bestowing for more than a decade.
"This award was first given at the 25th Anniversary conference in 2000, and it was first awarded to Xerox—ACCCA's first Business Member, and was established to recognize members of the business community that go beyond the conference exhibit or program ad to fully involve their company in learning about the community college system, assisting members and students with intern programs and generally making a difference in the system," said Susan Bray, ACCCA Executive Director.
"Serving community college transfer students is an important part of our work at Brandman University and I am personally thrilled to be honored with this recognition," said Brandman Chancellor Gary Brahm.
Some 77% of Brandman students come directly from a community college, and 75% of community college transfers are from the California Community College system.
Bray said that the many contributions of business members in ACCCA are evaluated each year, and leaders choose one to represent the generous contributions of time, talent and resources that our business members continually make.
"This recognition has been given each year since 2000, but I can't remember one that has deserved it more than this year's winner. When businesses get involved in a positive way, it directly benefits our members through enhanced programming, new and strengthened services, as well as contributions to further cement mutually beneficial relationships that ultimately help our students," Bray said.
"Brandman University is a perfect example of those qualities. When ACCCA was seeking a new home for its critical training program Admin 101, Brandman University and their Dean of the School of Education Christine Zeppos stepped up. Understanding the incredible need for highly trained administrators in the future, the University came through with state of the art facilities at their Irvine Campus, talented presenters and incredible offers of assistance to our members who wanted to continue their education in the Ed.D. program there," Bray added. "Brandman has been incredibly supportive throughout, and has indicated a willingness to assist ACCCA in future years by exploring new opportunities for involvement that will directly benefit our members."
ACCCA will be holding the 2013 Admin 101 program at Brandman Irvine campus July 21-25.
About ACCCA
ACCCA is the foremost member-supported professional organization for administrators and managers of California's community college system. ACCCA provides insurance benefits, publications, professional development opportunities, business partnerships, advocacy, peer counseling and assistance to all full-time administrator members, associate members, affiliates and corporate members. ACCCA continually seeks to provide its members with services, benefits, products and programs that will enhance their professional lives. A small administrative staff, selected independent contractors and a vast workforce of volunteers carry out the work of the Association. Our volunteers serve as our board of directors, commissions and committees and our network of campus representatives.