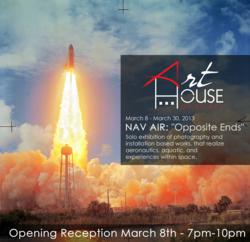 Delray Beach, Florida (PRWEB) March 22, 2013
The Art House of Delray Beach, Florida, hosted Into Action Treatment center of South Florida at their art gallery today. The Art House of Delray is a home for artists and the community to come together, in one space designed to develop everyone's own creative potential. With a focus on visual and sculptural arts, they provide support to emerging and mid-career artist, studios, and exhibition opportunities. The Art House offers a dynamic program featuring youth and adult classes, workshops, exhibitions, Art Nights, events, and community outreach. The art scene has transcended to Delray Beach at the Art House of Delray.
Into Action Treatment was given a tour of the Art House of Delray Beach and their current exhibit, NAV AIR "Opposite Ends" by Mark Widick M.D. The exhibit is a solo exhibition of photography and installation based works, that realize aeronautics, aquatic, and experiences within space.
Into Action Treatment is a grassroots alcohol and drug treatment center, which focuses heavily on the arts. They support the local art scene in South Florida and are run by the founder Andrey Rossin. "We are very excited to be given a first hand look at the current exhibit here at the Art House. We loved the exhibit and all of our clients greatly appreciate the opportunity to tour the exhibit. We would like to thank Samintra and all of the Art House staff," said Rossin after their tour today.
Into Action Treatment center focuses on long term recovery and is breaking the mold of what is come to be expected of a treatment center. They are a minimum 45 day treatment program, with most of their clients staying over 90 days, because it improves the odds of sustained long term recovery. "Our program is different than most treatment centers, because we are not a 28 day program. We want our clients to change permanently and to break the cycle of addiction," said Rossin.