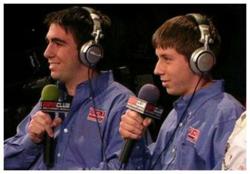 In an era where the negative influence television, movies and video games has on today's youth is highly debated, "The Scott and Ryan Story" is a wholesome, peer-to-peer message that will indeed inspire the entire family". Jaime M. Rivera, Movie Creator
Orlando, FL (PRWEB) March 26, 2013
A project of the YSN Sports Broadcasting Academy, "The Scott and Ryan Story" is about choices and regrets made during the formative teen-age years. It's also about second chances.
Both just 15 years old, Scott and Ryan accomplished an amazing feat by co-hosting a prime-time weekly sports radio talk show before a studio audience hosting sports celebrities. The show aired live throughout the U.S. and Canada from the ESPN Club at Walt Disney World/Orlando.
To donate to the movie production and receive valuable rewards, click here.
Upon completion of the project, a free DVD copy of the movie, along with a lesson plan will be sent to the over 37,000 public and private high school in the U.S.
ABOUT US: The YSN Sports Broadcasting Academy is a prestigious, 13-week national training program for high school students and recent high school graduates. Classes are taught in a live and interactive web-based teaching platform.
OUR FACULTY: Our faculty members are seasoned sports broadcasting professionals with real-world experience. Academy instructors are veteran NBA radio play-by-play broadcasters Matt Pinto of the Oklahoma City Thunder, Mark Boyle of the Indiana Pacers, former ESPN SportsCenter/Fox Sports broadcaster, Larry Burnett and Rich Burk of ROOT Sports.