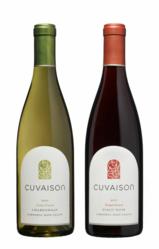 Our new package better reflects the beauty and light of our Tasting Room; it's a way of bringing that sensory experience into people's lives.
Napa, California (PRWEB) March 25, 2013
Cuvaison Estate Wines has introduced a new logo, labels, packaging and wines for its Cuvaison wine brand. The new design is inspired by Cuvaison's Tasting Room in Carneros, a contemporary, light-filled space with floor to ceiling windows offering breathtaking, panoramic views of Cuvaison's sustainably farmed estate vineyard.
"Our Carneros Tasting Room is at the core of our identity. Surrounded by our estate vineyard and flanked by our purpose-built winery, our Tasting Room is where people come to relax, refresh, and experience a connection with Cuvaison and our vineyard," says Jay Schuppert, President of Cuvaison Estate Wines. "Our new package better reflects the beauty and light of our Tasting Room; it's a way of bringing that sensory experience into people's lives."
Cuvaison's new label, introduced with the release of the 2011 Estate Chardonnay and 2011 Estate Pinot Noir, features a clean, modernistic logo, updated fonts and foil trim. The logo and label retain the iconic "arch" shape, a reference to Cuvaison's original winery in Calistoga which still houses a second Tasting Room. The natural craft box shippers reflect Cuvaison's continued commitment to eco-friendly packaging materials, with a more distinctive layout featuring a message from Cuvaison Winemaker Steve Rogstad.
"While retaining its historical reference, our new packaging more authentically communicates the contemporary and progressive nature of our Carneros Tasting Room, winery and vineyard," says Schuppert. "We're confident that our customers will recognize the brand and be very receptive to the visual appeal and distinctive character of the new label."
Cuvaison will also release two new wines, Kite Tail Chardonnay and Spire Pinot Noir, into select markets this spring. Kite Tail Chardonnay and Spire Pinot Noir are part of the winery's limited-production Single Block Series, wines sourced from select blocks within the Carneros estate that produce the most intense expression of the site. Cuvaison's portfolio continues to be anchored by an Estate Chardonnay and Estate Pinot Noir, both 100% estate grown wines that blend distinct vineyard blocks vinified separately in Cuvaison's Carneros winery.
About Cuvaison
Established in 1969, Cuvaison is a leading producer of estate-grown Chardonnay and Pinot Noir using grapes from its certified sustainable vineyard in the heart of the world-renowned region of Carneros in Napa Valley. Dedicated to a philosophy of producing vineyard-driven wines, Cuvaison employs block by block farming methods and a hand-crafted vineyard-to-bottle winemaking approach. The resulting wines, which also include estate-grown Syrah and Sauvignon Blanc, are balanced, nuanced and approachable. Cuvaison is part of Cuvaison Estate Wines, the family-owned Napa Valley vintner which also owns Brandlin, a Napa Valley estate on Mount Veeder.
About Cuvaison Estate Wines
Founded in 1969, Cuvaison Estate Wines (CEW) is a family-owned, locally operated Napa Valley estate vintner dedicated to producing ultra-premium, vineyard-driven and hand-crafted wines with an unmistakable sense of place. Drawing exclusively on grapes grown within its two certified sustainable vineyards in Napa Valley, Cuvaison Estate Wines' portfolio includes Cuvaison, which produces wines from its estate vineyard in Carneros, and Brandlin, which makes wines from the Brandlin Vineyard on Mount Veeder. The wines for both Cuvaison and Brandlin are crafted by Winemaker Steve Rogstad, who has over 25 years' experience making wine in Napa Valley.
# # #
Contacts:
Carrie-Anne Kunkel, Cuvaison Estate Wines, carrieanne(at)cuvaison(dot)com, 707-942-2464 (o)
Mora Cronin, Cronin Communications, moracronin(at)comcast(dot)net, 707-963-8157 (o)