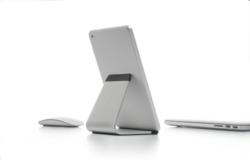 Remarkably versatile, yet elegant, Mika holds gadgets securely and looks stunning in any setting.
Pasadena, CA (PRWEB) March 26, 2013
Setting the gold standard for gadget stands of tomorrow, Bluelounge today launches the most comprehensive stand on the market, with a simple, clean design aesthetic. Mika, a universal stand, is compatible with devices ranging from tablets to ultrathin laptops or even wireless keyboards, giving consumers the perfect place to showcase or store their devices.
With an eye on keeping the design simple, material selection for Mika was of critical importance. The design team selected premium quality, solid aluminium for the body and finished the edges with a protective soft rubber, to hold devices securely and look stunning in any setting.
Remarkably versatile yet elegant, Mika holds tablets at an ergonomic angle, allowing users to access applications, surf the web, watch video or read with ease. In the kitchen, Mika can be used to hold a tablet in place while following a recipe or catching up on the morning news. In the office, consumers can use Mika to dock their laptop or stash a wireless keyboard at the end of the day.
Mika is available at a suggested retail price of $39.95. Bluelounge products are currently available online and at select retailers worldwide. To find a retailer nearby, please visit our store locator.
For more information on Mika, visit http://www.bluelounge.com/products/mika/
Follow Bluelounge on Twitter at twitter.com/bluelounge and on Facebook at facebook.com/bluelounge for the latest news on all Bluelounge products.
About Bluelounge
Bluelounge is an award-winning, international design studio known for its clever products that solve everyday problems through design.
Each product is designed to provide an effortless solution that stands the test of time and integrates into your life so seamlessly, you can't remember living without it.
Under the creative direction of Dominic Symons, the Bluelounge team is a vibrant collective that champions ingenuity and embraces creativity to fuel innovation.
Bluelounge is headquartered in Singapore, with studios in Jakarta, Indonesia and Pasadena, California.
Note to reporters: High-res images are available here: http://www.bluelounge.com/media/
Media Contact:
Kaitlin McIntyre Hawk
Bluelounge
P | 626.564.2802 ext. 706
kaitlin(at)bluelounge(dot)com