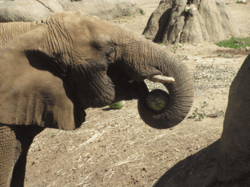 Oakland, CA (PRWEB) March 25, 2013
March 30, 2013 is Oakland Zoo's bi-annual Feast for the Beasts event (9:00am – 3:00pm). It also marks the public Grand Opening of a new exhibit, Animales de los Arboles, meaning animals of the trees. The new exhibit features coatis, a new species at the Zoo, and cotton-top tamarins, which are one of the most endangered animals in the world. Guests will be able to observe these two types of animals as they climb throughout their new exhibit and explore specially created enrichment their Keepers have made for them.
Besides visiting the coatis and cotton-top tamarins, guests will have the rare opportunity to donate fresh produce to the animals. The main highlight of the morning is placing produce in the elephant exhibit and watching them dine on delicious treats. The first 250 guests through the door will receive a golden ticket to enter the elephant enclosure, before the hungry herd. It's an opportunity to spread produce throughout the exhibit and then watch the 9,000 pound animals devour their favorite snacks such as, melons, carrots, bananas, grapes, kiwi, apples, cabbage, lettuce, stalks of celery, pineapple, and other fabulous fruits and vegetables. Each person who donates produce will also receive a free ride ticket.
***Media Advisory: The best video and photo opportunities will be between 9:30am and 10:30am at the elephant exhibit.***
During Feast for the Beasts, guests can learn more about curious coatis and why cotton-top tamarins are one of the most endangered animals in the world. Other highlights of the day include animal feedings throughout the day.
Feeding Schedule for Saturday, March 30

9:45am & 10:15am Elephant Spreads
10:30am Elephant Feeding
11:00am Bat Feeding
11:30am Giraffe Feeding
11:45am Meerkat Feeding
12:15pm Baboon Feeding
12:45pm Tiger Feeding
1:15pm Otter Feeding
1:30pm Lemur Feeding
2:00pm Alligator Feeding
3:30pm Sun Bear Feeding
The Feast for the Beasts event is included with regular Oakland Zoo admission, $11.75 for children (2-14) and seniors (65+), $15.75 for adults. Children under age 2 and seniors 80 years of age and older are FREE. Parking is $8.00 per vehicle.
About Coatimundi (Coati):
Coatimundi, also known as coati for short, are omnivorous mammals that eat fruit, insects, and eggs. They are related to and greatly resemble the raccoon family with their bushy tails and long snouts. Coatis are originally from Central and South America and inhabit mostly forest environments. This mammal is active during the day and will sleep in trees during the night.
About Cotton-top Tamirans:
The cottontop tamarin is among the smallest species of primate, weighing in at only one pound. This monkey gets its name from the fluff of white fur seen on their head and shoulders. Tamarins can be found in forest habitats in Central and South America. The cottontop tamarin is diurnal, meaning they are most active during the day, and will rest safely in the treetops at night. Don't be fooled by the size of this primate, for they are capable of delivering a very loud territorial song or songs when excited. Due to the destruction of natural habitat, the cottontop tamarin is critically endangered.
ABOUT OAKLAND ZOO:
The Bay Area's award-winning Oakland Zoo is home to more than 660 native and exotic animals. The Zoo offers many educational programs and kid's activities perfect for science field trips, family day trips and exciting birthday parties. Nestled in the Oakland Hills, in 500-acre Knowland Park, the Zoo is located at 9777 Golf Links Road, off Highway 580. The East Bay Zoological Society (Oakland Zoo) is a nonprofit 501(c)(3) organization supported in part by members, contributions, the City of Oakland and the East Bay Regional Parks. For more information please visit our website at http://www.oaklandzoo.org.
The East Bay Zoological Society has managed and operated both the Zoo and surrounding Knowland Park for the City of Oakland since 1982. Under its management, the Oakland Zoo presents an award-winning experience for visitors, fosters knowledge and understanding of animals and the environment through educational programs, and has earned national awards and international acclaim for its animal management and endangered species programs. Over the years, exhibit by exhibit, the Oakland Zoo has been reinvigorated and revitalized, making it a place where animals thrive and visitors enjoy. For more information, please visit our website at http://www.oaklandzoo.org.
Contact: Nicky Mora, Senior Marketing Manager/PR
(510) 632-9525 ext. 130
nmora(at)oaklandzoo(dot)org
###