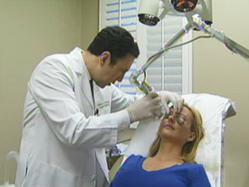 Los Angeles, California (PRWEB) March 23, 2013
According to a recent Self.com article, also available in the April 2013 newsstand edition of the magazine, there are a wide variety of factors that can lead to acne breakouts. While these eight triggers are easily recognizable, other silent triggers certainly exist. Each individual with this skin problem has a unique set of triggers and avoiding every acne trigger is not always possible (Go to: goo.gl/H3mqa).
"There are many acne triggers," says Dr. Simon Ourian, Medical Director of Epione Beverly Hills, "and the article lists a few that one might not otherwise think of, but some, in my opinion, are included solely for their shock value. I wouldn't recommend switching toothpastes, as the article suggests, with the idea that will help keep the area around your mouth free of breakouts."
The article indicates that hair products are another trigger for acne, blocking the pores of the skin, which can lead to pimples. Using antibacterial shampoo and salicylic acid pads to clean the area near the hairline can reduce the clogging of these pores.
Hard water doesn't rinse soap off the skin as effectively as soft water can. Soap residue can remain on the surface of the skin, resulting in clogged pores. Self magazine suggests installing a water softener to help prevent pimples caused by hard water.
Fluoride and whitening agents, commonly found in toothpaste are possible outbreak triggers if they get on the sensitive skin around the mouth. To combat this one can switch to another, non-fluoride toothpaste until the irritated skin clears up. This is not one of the article suggestions that Dr. Ourian endorses.
Birth control pills can both reduce and cause acne depending on the balance of the hormones estrogen and progesterone is unique in each person. Individuals that experience breakouts should consult with their gynecologist and evaluate their options of switching to another pill.
The sun tans the skin and this causes the skin to thicken to protect itself from the rays. Thicker skin around pores can cause them to get blocked and clogged, triggering breakouts. An oil-free lotion is effective in blocking the harming UV rays of the sun. Dr. Ourian agrees this may be helpful but always recommends using a sun block with SPF 30 or higher.
"There's not likely to be much harm if you switch shampoos or filter your water," says Dr. Ourian, but definitely speak with your doctor before taking or switching to any new medications."
Dr. Ourian has been a pioneer in laser technology and non-invasive aesthetic procedures including Restylane, Juvéderm, Radiesse and Sculptra. These treatments are used for the correction or reversal of a variety of conditions such as acne, acne scars, skin discoloration, wrinkles, stretch marks, varicose veins, cellulite, and others. More information about acne triggers can be found on Epione's website.