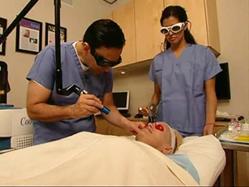 Los Angeles, California (PRWEB) March 24, 2013
According to an article published in the April 2013 edition of Marie Claire magazine, a secret to a healthy skin is a healthy diet. Diet has been linked directly to the severity and frequency of acne and visual skin deterioration. Even though an occasional unhealthy meal or treat won't lead to skin problems, an overall balanced, healthy diet helps to keep the skin youthful, radiant and spot-free (Go to: goo.gl/O9fVz).
"I can't argue with any of the following suggestions," says Dr. Simon Ourian, Medical Director of Epione Beverly Hills, "even if I don't consider Marie Claire magazine a creditable scientific resource."
A typical modern diet contains too many refined carbohydrates, junk food, processed foods and foods that are full of synthetic additives, which can contribute to acne breakouts. The first step towards acne-free, healthy looking skin is to reduce the amount of processed foods and junk food in one's diet.
Fresh fruit and vegetables contain antioxidants that help to fight free radicals. Free radicals are substances that cause aging and can lead to damage to the skin's cells. It is a good idea to eat at least five portions of fruits, berries and different types of vegetables every day to keep the skin healthy.
Refined carbohydrates can boost the body's production of insulin, which is related to skin problems such as clogged pores. Instead of processed refined carbs it is better to eat whole grains, or to cut down on carbohydrates and substitute them with lean protein and fresh vegetables.
Oily fish is good for the heart and for overall health, but it also seems to be good for the skin. Fish such as mackerels, sardines and salmon contain Omega 3 essential fatty acids that may help to prevent acne.
Milk, especially non-organic milk, contains growth hormones. Together with milk protein these can cause hormonal imbalances, which are related to overproduction of sebum (the fatty substance in the skin). Too much sebum can clog the skin's pores and start an acne problem. Good substitutes to milk include soy, almond and rice milk.
"There's certainly no guaranty that following these suggestions will clear up acne prone skin," concludes Dr. Ourian, "but there's certainly no harm in recommending that people eat more fruit and vegetables or fish rich in omega-3 fatty acids."
Dr. Ourian has been a pioneer in laser technology and non-invasive aesthetic procedures including Restylane, Juvéderm, Radiesse and Sculptra. These treatments are used for the correction or reversal of a variety of conditions such as acne, acne scars, skin discoloration, wrinkles, stretch marks, varicose veins, cellulite, and others. More information about acne can be found on Epione's website.