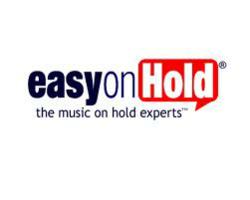 "When we analyzed the data, we identified six definitive motivators...different from buyer to buyer."

Julie Cook, President
Portage, Michigan (PRWEB) March 26, 2013
Easy On Hold's survey of more than 4,000 North American companies reveals that when companies decide to purchase music and messaging for phone on hold, one or more of six key factors are in play: desire to strengthen sales, reducing customer complaints and call abandonment, desire to build brand awareness, investment in a new phone system, competitive pressures, and ego, in that order.
The findings were gleaned from a 6-month study of the company's own customers. "Our marketing staff combed through data we collect from our buyers when they first approach us," says President Julie Cook. "When we analyzed the data, we identified six definitive motivators. It's fascinating because the motivations are different from buyer to buyer."
Cook said the number one factor to invest in a phone on hold program is to strengthen sales. "Marketers and business owners realize that significant sales are being made because of on hold marketing," she says. "You can't assume anymore that your target buyer heard your radio ad, saw your TV spot or newspaper ad, or got your direct mail piece. On hold is now becoming one of the first places your target buyer learned about a product or service they didn't know you offered, or a sale they didn't now about."
Customer complaints and/or call abandonment are the second most common reasons businesses purchase a professional phone on hold solution, Cook says. "Customers placed on hold in silence can mistake that for a hang up and become very, very frustrated. An AT&T survey says that 60% of callers placed on hold in silence will hang up after 60 seconds, and half of them won't call back," she says. "That's a frightening statistic. Think about the lost business."
Cook said other customer complaints include beeps on hold, offensive or irritating radio station programming or chatter, bad 'elevator' music or "weird carousel-type on hold music" that is embedded into the phone system by various manufacturers. "These frustrations cause a higher rate of call abandonment," she said.
The third reason for purchasing phone on hold messaging is to build brand awareness. "Big businesses want to sound friendlier, more approachable, more trustworthy," Cook says. "Small businesses want to sound bigger. Music and messaging on hold can help build and improve a brand's image very effectively because it's often the first marketing a customer will experience when 'touching' a brand outside of its other forms of advertising," she says.
"Calling a brand on the phone means you're willing to start a dialogue as a potential buyer, to get closer; when you hear a professional on hold message with pleasing music and helpful information, you get connected emotionally. You may not realize it, but you do," Cook says.
The trend toward VOIP phone systems has caused a surprising uptick in requests for professional auto attendant recordings and on hold messaging, Cook says, resulting in the fourth reason companies search out phone on hold messaging. "VOIP phone systems are taking over traditional phone systems in record numbers, resulting in the ability to have a seemingly endless number of voicemail greetings for various situations," Cook explains.
"Suddenly, the receptionist's quiet little voice isn't so impressive when heard throughout this massive phone tree. Companies seek a more professional sound." She also said that when companies migrate to a new phone system, the music that comes with the system "is usually pretty awful. So better licensed music selections have become very important."
Keeping up with the Joneses is a factor in private life and business life too, Cook says. "If the equipment dealer down the street has a really good on hold marketing program, his smart competitor better get one, too," Cook says. "You don't want your competitor sounding more 'together' than you do, right? We found competitive pressures to be the fifth reason why businesses purchased on hold messaging."
Along those same lines, Cook said, the final reason why companies purchase music on hold services is ego. "Sure, it's an ego boost. If you're a dentist with 2 degrees and various accreditations, you're pretty proud of that and you want your patients to know," she explains. "And why not? For many patients, they want the confidence and peace of mind that comes with choosing an expert."
Easy On Hold, http://www.easyonhold.com, created in 1997, provides professional telephone recordings, music and on hold message productions, auto attendant, IVR, voicemail greetings, and web audio to companies around the world.