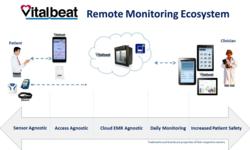 San Diego, CA (PRWEB) March 22, 2013
SCBC Wireless Health Training Center Open House, Aventyn Inc., an innovative provider of secure wireless clinical information processing solutions, announces the "real-time" demonstration of the Vitalbeat Remote Patient Monitoring Cloud solution for hospitals and long term care at the SCBC Wireless Health Training Center Open House at San Diego Miramar College.
When: Tuesday, March 26th, 2013 from 4:00 pm to 7:00 pm
Where: San Diego Miramar College Campus
10440 Black Mountain Road
San Diego, CA 92126
Wireless Health is emerging as a new biotechnology industry sub-sector at the interface of medical devices, biotechnology-driven diagnostics, and information technology. Wireless solutions offer dynamic, cost-effective ways to educate and engage people living with chronic conditions, while placing tools in their hands to help them "self-manage" treatment and enjoy a much higher quality of life regardless of whether they live in urban or rural settings. An environmental scan and gap analysis conducted by the Southern California Biotechnology Center (SCBC) @ Miramar College established the need for an agile, sensor agnostic Wireless Health Training Platform. SCBC received funding from the California Community Colleges Economic Workforce Development Division (CCCEWD) to develop the platform in an industry-driven collaborative to offer pilot training workshops to incumbent workers, 'career awareness' workshops for educators, establish an internship program and create career awareness tools. Additional key support is provided by WLSA and Aventyn.
A preview of the SCBC Wireless Health Training Center was held on March 15th 2013. Twenty-seven educators and career counselors from San Diego, Orange, and Riverside counties attended the event which included presentations by SCBC, WLSA, and a demonstration of the training platform by Aventyn.
"SCBC's goal is to provide a rapid and relevant response to help meet our industry's workforce training needs. We thank WLSA and Aventyn and our industry Advisory Council members in bringing forth the WH Training Center in less than 12 months. We look forward to the launch of training in late April and to the continued collaboration with our industry partners", said Dr. Sandra Slivka, SCBC Director.
An industry open house event will be held Tuesday, March 26th 2013 from 4:00 PM to 7:00 PM at the SCBC Wireless Health Training Center on the campus on San Diego Miramar College. The purpose of the open house is to demonstrate the training platform and educate people about the many opportunities for industry to collaborate in the workforce development programs offered by the center. For more information contact Sandra Slivka at sslivka@sdccd.edu
The SCBC Wireless Health Training Platform offered on Aventyn's innovative Vitalbeat Remote Patient Monitoring platform seeks to establish an industry-defined wireless health training platform. Aventyn will assist with the implementation of mobile medical device hardware and provide clinical data sets for the training program. Aventyn's real-time demonstration will illustrate the compelling value of the mobile health delivery platform to providers, patients, payers, industry partners and small business service providers who benefit from the Vitalbeat cloud solution.
About SCBC
The Southern California Biotechnology Center (SCBC) is one of six centers funded by the California Community Colleges Economic and Workforce Development Program. The Biotechnology Initiative specifically serves the workforce needs of the biotechnology community in California. The statewide and regional directors of the Biotechnology Initiative address the life-long learning needs of the workforce for the biotechnology industry in California, thus fulfilling the mandated purpose to support economic growth in California. For more information about the event, please contact Sandra Slivka at sslivka@sdccd.edu
About WLSA
The Wireless Life Sciences Alliance (WLSA) is a trade organization for global wireless and mobile technology innovators, scientists, physicians, policy makers, service providers, and investors. The WLSA is committed to accelerating the adoption of connected health to improving health and wellness for consumers and caregivers while creating value for all sectors of the life sciences and technology ecosystem. WLSA members and partners are using wireless health innovations to simplify the management of chronic conditions, prevent disease, and improve lives around the world.
About Aventyn Inc.
Aventyn Inc. is an early stage health technology company delivering innovative, standards based secure core to cloud Connected Clinical Information Processing solutions. Our CLIP®Care EMR solutions with CareLock™ health information security and integrated wireless bio-sensor capability enable continuity of care anytime, anywhere and anyplace. Vitalbeat–Integrated Chronic Disease Management™ patient personalized solutions are tailored for home and remote monitoring. We offer bundled and per patient per month subscription solutions with strategic provider and payer partners. Aventyn AB, Aventyn UK Ltd and Aventyn India Pvt Ltd are wholly owned subsidiaries of Aventyn Inc., USA.