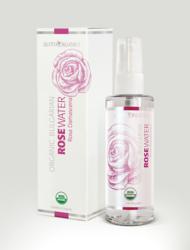 "Distillation of flower waters and the rose essential oil (rose otto) are a science and an art at the same time"
Los Angeles, CA (PRWEB) March 24, 2013
At the 2013 Natural Products Expo West, Alteya Organics, a beauty company with its own organic rose farm in the heart of the Bulgarian Rose Valley, announced the launch of its award-winning pure USDA Organic Bulgarian Flower Waters at Whole Foods Market, MOM's Organic Market and other select organic stores. The products are also available at AlteyaOrganics.com and Amazon.com.
Obtained via a proprietary steam-distillation of fresh organic aromatic plants, Alteya's flower waters carry the complexity, therapeutic, skin care properties and synergy of fresh flowers. A gentler form of aromatherapy, these flower waters are mild moisturizers and widely used as face and skin toners. Initially, the flower water line will include Pink (Bulgarian) Rose, White Rose, Lavender and Mellissa waters. Chamomile water will also be added to the mix shortly.
Alteya's pure USDA Organic Bulgarian Rose Water is amongst world's most sought-after flower waters due to its multiple applications in skin care, cosmetics, and aromatherapy. It is considered "Nature's Best Natural Moisturizer" and is also therapeutic- and food-grade.
The rose water combined with the other flower waters create a fragrant set for every need:

Bulgarian Rose Water (Rosa damascena): renowned for its rejuvenating, moisturizing and balancing effects on skin
White Rose Water (Rosa alba): known for its delicate aroma, moisturizing, uplifting and skin softening properties
Bulgarian Lavender Water (Lavandula angustifolia): used to cleanse, tone the skin and relax the mind
Melissa Water (Lemon Balm Water): used to calm troublesome skin, also refreshing and energizing
"Distillation of flower waters and the rose essential oil (rose otto) are a science and an art at the same time" said Nikolay Kolev, Alteya's co-founder and business development manager. "Roses, for example are very delicate flowers and it is very difficult but important to preserve all their valuable therapeutic properties." Alteya's distillation process based on 400-year old traditions and new scientific methods is more complex and expensive to perform than standard distillation. However it ensures higher quality, therapeutic-grade products. Alteya's organic massage oils are also based on the exquisite Bulgarian rose otto and Lavender oil, which are used by many specialized spa salons and aromatherapy professionals.
The organic cultivation of roses is much harder compared to conventional farming that uses mostly synthetic fertilizers and pesticides. Organic agriculture also requires more manpower. With its long-term projects in the Rose Valley, Alteya Organics provides the local villages and gypsies with employment and a healthy work environment so they can provide for themselves and their families. Additionally, Alteya announced that 5% from all profits from the sales at Whole Foods Market will go towards projects specifically aimed at improving the life and educational opportunities for the young people from the Village of Jagoda, in Bulgaria which is the center of Alteya's rose oil production.