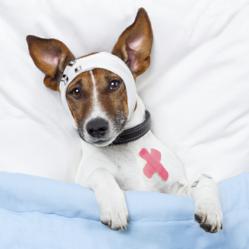 Our goal was to be able to take orders before flea and tick season and I'm very proud of my team. We did it.

– Casey Hite
Asheville, NC (PRWEB) March 25, 2013
Aeroflow Healthcare has been improving the lives of patients for more than ten years and has now branched out to improve the lives of animals. By opening FetchRx.com an online pet pharmacy, Aeroflow Healthcare extends it's excellent customer service to an entirely new type of patient.
Owners and brothers, Casey and Don Hite have owned and operated Aeroflow Healthcare for more than ten years. Further perfecting their business model to meet their patient's needs, they decided to open a pharmacy in 2010.
Not long after the pharmacy opened, Casey was watching a movie with his dog's head in his lap. This was the first time Casey realized that Rasta is growing old. In that moment, years of memories passed before him and a sudden quiver of fear. How could he make sure that Rasta has the best life an elder dog can have? How can he make sure Rasta gets everything he needs to grow old gracefully and have the healthiest, longest life possible.
As he began buying supplements and various prescriptions for his aging dog, he realized that he could use Aeroflow's pharmacy to offer pet medications and supplements at a fraction of the cost that the veterinarians are charging. (He says this was all Rasta's idea.)
The idea began simply: He proposed to create an online pet pharmacy that is the most convenient and least expensive place to buy pet medications online. Don and Rasta nodded in agreement.
FetchRx.com is awaiting VIPPS accreditation, so prescription drugs must be handled by phone, however, a Grand Opening Tail Waggin' Sale is happening now on many popular pet supplies including the FURminator, Glucosamine supplements, Catnip treats and more.
The online pet store, FetchRx.com carries top-of-the-line flea and tick preventatives, supplements, bedding supplies, leashes, collars, grooming tools and accessories and much more.
Visit http://www.FetchRx.com online or call 888-732-3979 for more information.
Aeroflow's mission is to help patients live a better life through compassion, excellent service and exceptional products. They have nine offices located in the Southeast. Call 1-888-345-1780 or visit http://www.aeroflowinc.com/ for more information.