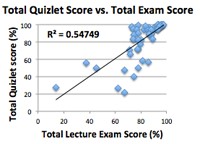 In 40 years of teaching, this is the first time I have hard evidence that the amount of time spent studying correlates to a higher grade.
El Paso, TX (PRWEB) March 26, 2013
A professor at the University of Texas at El Paso has proven what teachers and parents have claimed for years: more studying leads to better grades. Mike Kolitsky, PhD, tracked the time that students in his online Anatomy & Physiology course spent completing practice quizzes via Primal Picture's Anatomy & Physiology Online, an interactive, 3D anatomy learning tool. He gave students credit for the quizzes as a way to motivate participation. Students who spent more time on the quizzes scored higher grades on exams, and more students scored A's and B's than in previous classes where students did not get credit for completing quizzes.
"This is the first time I have hard evidence that the amount of time spent studying correlates to a higher grade," said Kolitsky. "I was also able to show my students that with good study tools and with practice, they can learn difficult yet essential material."
Dr. Kolitsky has been teaching online courses to UTEP students for 12 years, and developed new testing techniques for the virtual learning environment. He developed online quizzes using both his own questions and those from Primal Pictures' Anatomy & Physiology Online, an interactive learning tool that allows students to view and study the entire human body using three-dimensional, rotatable images. He initially found that students who participated in the optional quizzes performed better on his final exams.
"I noted a strong correlation between quiz scores and student time and the final exam result. If a student scored in the A range on their last five quizzes, I could usually predict they would get an A on the exam," said Dr. Kolitsky. "Students who chose not to use the online quizzes and instead told me they studied independently just did not perform as well."
Kolitsky published an article about his initial experiences in E-Mentor, a peer-reviewed education journal. When the school asked him to teach Anatomy & Physiology online in 2012, he jumped at the chance to further validate his theory about the value of the quizzing function.
In his 40-plus years of teaching, Dr. Kolitsky taught Anatomy & Physiology in conventional classrooms many times and knew from experience that this difficult course requires students to learn both terms and concepts for true mastery.
"I decided to encourage use of the quiz tool by giving students credit for taking the quizzes," he said. "This helped me evaluate if students really were learning through testing."
Primal Picture's web-based system allows students to log in anytime from anywhere, and tracks the number of hours students spend with the program. Instructors can review data on student usage and study time and can adjust or modify the online lectures and discussions accordingly.
Student reception to the course approach and to the online learning tools was also positive. Kolitsky received positive feedback on the course, and about the 3D images and other features of Primal Pictures online learning tool in student assessments.
"In 40 years of teaching I don't recall any student telling me they liked a textbook, but I had unsolicited positive feedback on Anatomy & Physiology Online at the end of this course."
ABOUT PRIMAL PICTURES
Primal Pictures offers the most complete, detailed and medically-accurate 3D model of human anatomy for students, educators and health care practitioners. Primal Pictures' 3D anatomy software is widely adopted in education and it is used for patient, practitioner and student education in over 20 countries. In 2012, over half a million students will learn anatomy using Primal software. In the past 12 months, Primal won the British Medical Association's annual prize for the best digital resource, and the Queen's Award for Enterprise: Innovation 2012, the highest official award that a British business can achieve.
ABOUT UNIVERSITY OF TEXAS AT EL PASO
The University of Texas at El Paso is a four-year state university, and is part of the University of Texas System. With more than 22,000 students, UTEP offers a broad array of degree programs – 70 bachelor's, 75 master's, and 19 doctoral degrees. UTEP was recognized by Washington Monthly magazine as #12 in the nation for excellence in social mobility, research and service. UTEP ranked #1 among all U.S. universities in the Social Mobility category for helping its students achieve their dreams and professional aspirations.