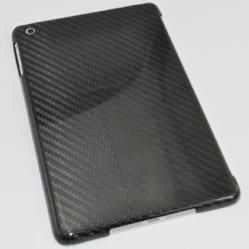 Stylish carbon fiber case which protects iPad mini from scratching,drop and any incidents.
Shenzhen, China (PRWEB) March 26, 2013
Fresh from the labs of Esorun Technologies, the new Carbon Fiber case is a durable protection cover for iPad Mini that adds to style without increasing the bodyweight much.
The hand crafted Esorun Carbon Fiber Cases weigh only 15 gms, is 0.8 mm thick but provides protective strength to the gadget that surpasses steel, aluminum and other alloy cases. This lightweight material case, gives the advantage of allowing users to carry iPads around with minimum effort.
New age users of iPads, iPhones and other hitech gadgets are always guarded about using of their devices. It's not without reason that so many protection products are available in the market.
The attractive stripe design of the Esorun Carbon Fiber case has an effect of layering when viewed from different angles and bring about elegance, encouraging one to flaunt the encased gadgets safely for any function, be it a private one or for an official engagement.
Esorun has always been a step ahead of competitors in developing newer and more useful accessories for all Apple products, including Qi wireless charging transmitter mats for iPhone 5. Launch of the new Carbon Fiber Case for iPad Mini beats the competition again.
Esorun Carbon Fiber Cases not just for iPad Mini but also for iPhone 5, Galaxy S3, iPhone 4s, iPhone 4, iPad and New iPad are available in the market.
About Esorun
Based out of Shenzhen China, Esorun Technology Ltd. is a professional technology company that specializes in the manufacture of wireless chargers, WiFi hard disks, Bluetooth speakers, power banks and several iPhone accessories.
With constant innovation, the company has been a pioneer in manufacturing many digital products and devices, which are not only useful, but are also carved in a creative design, are trendy and fashionable in appearance and come packed with the highest quality standards.