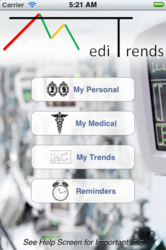 Empowering Individuals to Better Health
Jackson, NJ (PRWEB) March 29, 2013
Imagine walking into a Doctor's office and presenting him with a graphical "State of Health" that details which direction the individual's health is going without the Doctor needing his giant, cluttered folder. The newly released MediTrends App allows an individual the ability to work proactively with their Healthcare Provider to map out a plan for a Healthier Future. Armed with MediTrends, an individual can display recent health tests and other critical health information while allowing MediTrends' patented color coded graphs to display the individual's health trends.
DigiMed, LLC, was formed in 2010 to develop Health & Fitness related Apps. The DigiMed, LLC founders have over 60 combined years experience working with satellites. Their satellite experience has given them the unique ability to focus on preventative health measures. Once a satellite is launched, its "State of Health" depicts all of its key "Health" factors and monitors them continuously for signs of a trend that indicates that something may go wrong in the future. Recommendations and potential solutions are generated in advance should the trend line continue in a negative direction. This same method can be accomplished working proactively with your doctor. This philosophy was the basis in the development of MediTrends.
In addition to providing the "State of Health" for an individual, MediTrends also stores critical health related information that may someday save a life. All pertinent health information for an individual and their family is stored in MediTrends. Key contact information such as Insurance, Physicians, pharmacies, medications, allergies, medical issues, recent tests, etc. are just a fingertip away and password protected. An Emergency Button on the App will also provide key health information to an emergency technician even if the user is not able to provide the login data. This could someday save a life.
DigiMed's approach is compliant with the proposed New Rule by the U.S. Department of Health and Human Services (HHS), which would give patients direct access to their laboratory results.
Learn more at: http://digimedllc.com/.
Available at the App Store: https://itunes.apple.com/us/app/meditrends/id538176866?mt=8