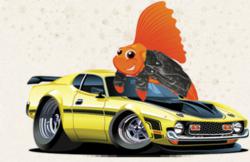 The average amount of student loan debt that a senior graduates with is $25,000 these days.
Los Angeles, CA (PRWEB) March 23, 2013
RoadFish.com men's lifestyle and finance magazine today released their criticism of a recent Deseret News article that took a look at the way student loans can positively affect a borrower's credit. RoadFish.com issued words of caution to parents and students about the financial dangers of graduating from college buried under hefty debt, and offered advice for ways to perhaps scale down the need to borrow so much money for school.
Jan Miller of the Deseret News, a publication out of Salt Lake City, Utah reported last week on the many advantages that having a student loan can bring to one's credit score. Miller states that she is responding to the queries of many who wonder if student loans will help or hurt credit, and to what degree it has an effect on their credit trustworthiness. Miller reported that federal student loans can impact credit in the same way that a car or home loan can, by helping one's score when timely payments are made and hurting it when they are not. She goes on to list nine ways in which student loans can affect credit, with the majority of these topics painting student loans in a favorable light in terms of the way they will influence credit.
RoadFish.com would have liked to see some addressing of the dangers of student loans as well as all the positives. RoadFish.com's Senior staff writer is quoted as saying, "Sure, if you've already got student loans, then why not look at the bright side, right? You're already in debt, might as well make the best of it and cheer yourself up by exploring the silver linings. However, I do think it's somewhat irresponsible to not even mention the ways in which student loans can completely ruin a person's credit or finances within that sort of an article. The average amount of student loan debt that a senior graduates with is $25,000 these days. That is downright ludicrous. Why isn't that issue being addressed? Students graduate college and aren't making big money, yet they're expected to start paying back what they owe within 6 months of graduation. Newsflash, folks—that's a lot of dough for a kid to owe."
RoadFish.com would like to see more of a focus on options for families and students so that massive amounts of loans don't need to be taken out in the first place. RoadFish.com suggests that students attend community college classes for a year or even two years before transferring to a bigger school to save money, or looking strictly at state schools to keep the tuition more affordable than if a student attends university out of state. RoadFish.com's Senior staff writer is quoted as saying, "College is insanely expensive these days, but that doesn't mean that it's okay to roll over and take out thousands and thousands of dollars in loans just because you get approved for it. Think about how it's going to affect your kids in the long run, and the debt they're going to have hanging over their heads for years after leaving school. What about if your kid falls behind on payments and their credit worsens because of such a huge loan and their inability to pay it back? It doesn't take a scoreplanner to understand that that's not a favorable scenario."
In the above-mentioned article, Miller is described as a student loan consultant. She is also the founder of Miller Student Loan Consulting which focuses on creating customized repayment plans for students who are indebted with school loans.
About RoadFish.com:
RoadFish.com is an online magazine for men which publishes articles on lifestyle and finance topics of interest to an age group in their 30's and 40's. RoadFish.com routinely covers news on men's luxury items, personal financial software, and restaurant and hotel reviews. RoadFish.com enjoys writing for men who have already achieved a fair amount of success and are striving for more in life. RoadFish.com keeps up with financial news as well as marketing conferences. RoadFish.com is owned and operated by Purpose, Inc.