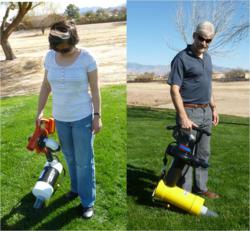 Tucson, AZ (PRWEB) March 24, 2013
Let's face it, pet waste is annoying and clean-up is a necessary duty of pet owners. Some communities have had enough, and are even fining pet owners who don't keep up, or after DNA tests prove it was their Fido that did the duty.
For those families and busy professionals that don't have the time, and those pet owners that have real physical challenges, there is now a product available that makes Poo-Patrol quicker, easier, cleaner, and more dignified.
The PooVak™ patent pending design uses the suction power of a Leaf-Blower to vacuum pet waste making this sanitation problem a breeze. And the design uses an absorbent bag, and non-stick surfaces keep the inside of the canister clean. When done, the user can just dispose of the bag, never touching the waste in the process.
The PooVak's, unique capabilities enable pet owners to clean up faster than ever, and actually do a better job because with powerful suction action the PooVak can even get those annoying little pieces that seem to fall between the cracks and crevices, and it thoroughly removes all traces of poo from grass blades or any surface (grass, gravel, concrete, and patio areas). This is especially important for situations with multiple dogs, because the timely removal of pet waste is the best preventative of the spread of the canine Parvo Virus.
What is truly unique about the PooVak, is that it simply attaches to a leaf blower for the source of suction. Some customers just purchase the PooVak as an attachment to their existing blower, while others are ordering the PooVak as a complete system and getting two tools in one, making the PooVak a great value.
The PooVak was introduced in April 2012, and direct to consumer sales have reached 30 states, and international interest is also building. The PooVak is Made in the USA, comes with a 30 day satisfaction guarantee, and a 1 year warranty. See their see website at http://www.poovak.com for customer reviews, videos of the PooVak in action, and to see all the available models (A/C electric, Battery, and even GAS powered models).