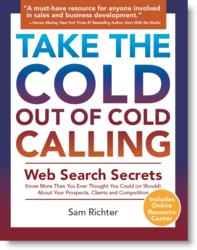 The must-have resource to win new business and provide exceptional client value.
Minneapolis, MN (PRWEB) March 23, 2013
SBR Worldwide LLC today announced the 10th edition of its best-selling book, Take the Cold Out of Cold Calling, by award-winning author and internationally top-ranked keynote speaker Sam Richter (http://www.samrichter.com). Many sales experts regard the book as the best source on sales intelligence. It teaches readers the secrets about locating online information, and how to find and identify highly qualified prospects, ensure relevancy in business meetings, provide meaningful value to existing clients and help close more deals.
The updated 10th edition features new methods for using Google, social networks including LinkedIn, Twitter and Facebook, and "Invisible Web" search techniques for finding the inside information on companies, industries and people. In addition, Richter offers new examples and case studies on how leveraging information can dramatically improve sales success and individual performance. For example, a recent Aberdeen Group study showed that best practice companies that leverage sales intelligence—the exact sorts of information Richter shares in his book—see annual improvements in close rates of 74 percent and annual growth in revenue per account of 82 percent.
The book was first published in 2008. Because the Internet has changed so much in the past five years, approximately 80 percent of the book's content is completely new. Yet the concepts of leveraging information to identify opportunities and establish relationships are timeless.
In 2012, the book's ninth edition was named the Sales Book of the Year by the American Association of Inside Sales Professionals, a 1,500-member organization devoted to excellence in Sales. Previous book editions have won awards including an Independent Publisher Book Award, Best Sales Book Award, and a USA Book News National Best Book Award.
New York Times best-selling author and internationally recognized sales/business expert Harvey Mackay says Take the Cold Out of Cold Calling "is the must-have resource to win new business and provide exceptional client value." Added Joel Mandel, Executive Director of the Minneapolis-based Sholom Foundation, "through Sam's book, I was able to find inside information about a very important prospect that directly led to me landing a $400,000 commitment, with more to come." Additional five-star reviews are available at Amazon.com and at http://www.takethecold.com/reviews.
"Don't let the title fool you—when you meet with someone and don't understand their issues and what they care about, then you're cold calling," said Richter. "What Take the Cold Out of Cold Calling teaches is where every other book ever written about effective selling leaves off, and that is the step-by-step instructions on how to find information, and how to use it to turn any prospect or client interaction into a relevant, welcomed, value-based warm-call."
In addition to the book, purchasers of Take the Cold Out of Cold Calling also receive access to the Warm Call Center, featuring downloadable resources and tools that allow readers to easily implement what is learned. Order books at http://www.takethecold.com, through Amazon.com or through any book store.
###
Take the Cold Out of Cold Calling Book Information:
ISBN 10: 1-59298-209-3; 13: 978-1-59298-209-7, pp310 – 7" x 9" – paper. US $34.95
Published by SBR Worldwide, LLC and Beaver's Pond Press. To order visit http://www.takethecold.com
Sam Richter Biography: http://www.samrichter.com/bio
Take the Cold Out of Cold Calling Book Reviews: http://www.takethecold.com/reviews.html