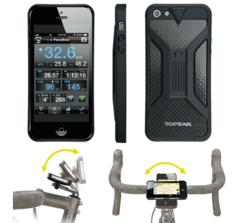 For $147 this kit delivers an iPhone 5 bike computer that rivals bike computers costing much more at the lowest cost of any iPhone 5 complete kit
Bozeman, MT (PRWEB) March 24, 2013
The iPhone 5 ultimate bike computer is now exclusively available at the Heart Rate Watch Company.
"This kit takes all the guesswork our of having the ideal accessories to make your iPhone 5 into a world-class bike computer," says Rusty Squire, President of the Heart Rate Watch Company. He adds, "These are the best available accessories at the best price all put together into a single bundle."
The iPhone 5 Bike Computer Composition
The iPhone 5 ultimate bike computer starts with the Topeak RideCase built of carbon fiber which allows for both panoramic and portrait views, plus it offers maximum flexibility in screen angle adjustment. "This case is huge because there is nothing else like it on the market today and it is the heart and soul of the kit," says Squire.
Next the PanoBike Bluetooth Smart speed and cadence sensor offers speed, distance and cadence data directly to iPhone 5. The PanoBike heart rate strap delivers accurate heart rate data and the PanoBike app organizes the data for cycling. "You can also use any third party app that is Bluetooth Smart compatible," says Squire.
"We put all four of these items together to take all the digging out of the equation", says Squire. He adds, "It truly is a one stop shop."
Who This Kit Is Suited To
Ideally you need to own an iPhone 5 and then desire the best possible metric data delivered to your screen. "Ideally this would be somebody who was interested in all the best bike data, but not necessarily full-time GPS in map mode," says Squire. He adds, "Full-time GPS mapping data burns up the iPhone battery quickly and this requires an auxiliary battery".
"For $147 this kit delivers an iPhone 5 bike computer that rivals bike computers costing much more at the lowest cost of any iPhone 5 complete kit," says Squire.
Heart Rate Watch Company also offers a kit with an under stem auxiliary battery for those who wish to have mapping data. The new iPhone 5 ultimate bike computer is now on sale.