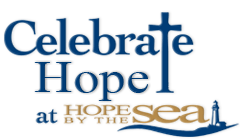 "The Easter Week holiday will be a time to celebrate rebirth, renewal, and recovery!"
Laguna Niguel, CA (PRWEB) March 26, 2013
The Spring season is just beginning in Southern California with the ocean breezes warming, the perennial and annual blossoms brightening the coastline and this week offering those new in recovery the opportunity to "Celebrate Hope" with Easter Sunday dinner and the occasion to attend Holy Week church services. "Hope By The Sea's staff understands that holidays can be stressful for clients who are newly sober and perhaps still have negative memories of sharing holidays with their family and friends," explains Robert (Bobby) Nicholl, Interventionist.
According to Hope By The Sea's Cyndie J. Dunkerson, OFS, "This Easter week Celebrate Hope clients will be able to choose to attend various church services including Holy Thursday services and Easter Sunday Mass at Mission Basilica San Juan Capistrano, Easter Sunday services at Capo Beach Church and Good Friday worship service at Saddleback Church."
"Working to establish new holiday traditions can be very important in recovery from the disease of addiction, so it is our goal to teach clients about setting simple goals for holidays including eating healthy meals and enjoying activities like taking a walk, swimming or a short bike ride," offers Mr. Nicholl, "Also, we make sure to coordinate church service attendance with support meetings like Alcoholics Anonymous. Our Easter Week holiday will be a time to celebrate rebirth, renewal, and recovery!"
Family members and future clients are invited to inquire about Hope By The Sea's treatment programs. We are happy to explain our services, including our faith based treatment component. Each program incorporates the 12 step philosophy, therapeutic workshops, individual psychotherapy, group therapy, family therapy, spiritual counseling, physical fitness, cognitive behavioral therapy, and more. We are available day or night (800) 631-7753.
###
About Celebrate Hope: Celebrate Hope is Hope by the Sea's Christian Residential Drug Rehab and Alcohol Treatment Program, located in the coastal communities of Orange County Southern California. As an integrated component of one of the very best treatment facilities and drug rehab programs in the United States, Celebrate Hope culminates a Biblical Christ centered approach to healing, restoration, and reconciliation to God, family, and to one's own dignity and self-worth. Celebrate Hope offers 30-60-90 day programs in a comfortable safe ocean environment. If you or a family member is in need of help call toll-free (800) 631-7753 24 hours a day seven days per week.