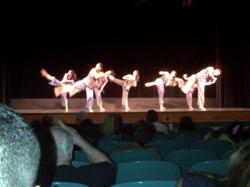 Fort Lauderdale, Florida (PRWEB) March 23, 2013
Into Action Treatment Center visited Moving Current at the Performing Arts Center in Fort Lauderdale, Florida, today. The visit was part of the weekend activities at the center for the clients. Moving Current is a contemporary dance collective based in Tampa, Florida.
Into Action Treament center is located in Boynton Beach, Florida, and has a strong focus on the arts. They conduct weekly art therapy groups at their center, which is a 24 bed coed drug rehabilitation center. The center was founded just over a year ago by their founder Andrey Rossin. When asked about the dance show and bringing his clients from the center down from Boynton Beach, he said, "We are very excited for our clients to get more exposure to the arts, and dance is something that we have not seen as a center yet. We love showing our clients how to have fun and enjoy life in recovery, and this is the type of activity that most of our clients would never even know about if they were still out using drugs."
Moving Current is supported in part by the Arts Council of Hillsborough County, the State of Florida Division of Cultural Affairs, the Southern Arts Federation, the Knox Family Foundation, Info-lution Corporation and Pilates Bodies and many individual contributors.
The collective and its directors are dedicated to bringing modern dance to the forefront of the performing arts by creating and producing work that is not only accessible to a wide audience but does so without compromising the artistic integrity of contemporary dance today.
For more information on Moving Current, you can visit their website and see their upcoming performances.
For more information about Into Action Treatment, you can call them at 1-855-933-6732 or visit their website to learn more about their drug addiction treatment options.