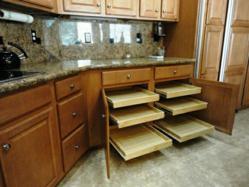 Buy pull out shelves factory direct and save up to 50%
(PRWEB) March 25, 2013
Slide Out Shelves LLC announced today that it has expanded its product line of kitchen pull out shelves to include blind corner pull out shelves for blind corners and pan lid organizers.
Kitchen pull out shelves and drawer organizers are increasingly showing up in today's organized and modern kitchen and pantry cabinets and Slide Out Shelves LLC has been supplying the do it yourself homeowners and cabinet shops with quality roll out shelves for almost a decade.
The company has introduced pull out spice racks and blind corner pull outs to its lineup of made to fit pull out kitchen shelves that are shipped nationwide with a 2-3 day lead time.
With made to fit shelves starting at only $22.95 most homeowners should find installing cabinet pull out shelves an affordable retrofit to their cabinets with glide out shelves from Slide Out Shelves LLC
Customers have stated that installing pull out kitchen shelves have improved the overall storage capacity of their kitchen cabinets by allowing better organization and have enjoyed the additional cabinet storage area when a full depth roll out shelf is installed in the area where they previously only had a half shelf or they were able to install three cabinet pull outs in the same area.
Buy factory direct from their website http://www.slideoutshelvesllc.com and save up to 50%