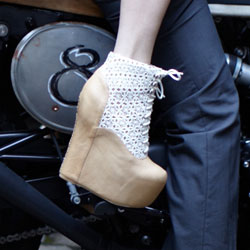 Our eclectic urban edge seems really right for what is happening in the world of "I Dos"
San Francisco, CA (PRWEB) March 26, 2013
Indie shoe retailer Ashbury Skies has launched "Cold Feet by Jeffrey Campbell', in collaboration with footwear designer Jeffrey Campbell. With the independent-minded, urban bride in mind, Ashbury Skies and Jeffrey Campbell have hatched a collection of indie wedding shoes that redefine what the young, trend-conscious bride will wear on her wedding day. This unconventional shoe collection complements the more low-key wedding styles chosen by brides today. The Cold Feet collection includes colors, details, materials and ornamentation that compliment a modern bride's indie, vintage or urban look.
"This assortment ditches the concept of traditional bridal shoes in favor of edgy, less fussy styles," said Mary Sue Papale, founder of Ashbury Skies. "Despite their dressed-down style, these shoes are still very much designed for wedding days."
Increasingly, today's weddings are more simplistic than in the past. More and more couples are choosing to get hitched in backyards, urban gardens, on beaches and mountainsides, and on the steps of City Hall. Wedding fashions are increasingly less fussy, with eclectic, vintage inspired aesthetics growing in popularity. The Cold Feet shoe collection was designed with these trends in mind.
"Our eclectic urban edge seems really right for what is happening in the world of I Dos," said designer Jeffrey Campbell. Campbell has been capturing the essence of street fashion and weaving it together with vintage style and runway flair since 2000.
"With Jeff's street sensibilities, we knew this collaboration would hit refresh in this category. More and more, brides want to express their personal style on their wedding days. This niche collection will be a godsend to the indie bride," said Papale.
The Cold Feet collection will feature exclusive variations of Jeffrey Campbell's signature "Lita" bootie and his towering wedge, the "Damsel", along with the "Alva", a white quilted wedding sneaker with an I DO engraved nameplate. Additional urban wedding shoe styles by Cold Feet include pearl beach sandals, wedding brogues and modern heels and flats with unique ornamentation designed for indie brides-to-be. Introductory prices will range from $89 to $229.
Ashbury Skies is an independent online retailer of street fashion footwear by indie designers including Jeffrey Campbell, Messeca, and YRU, among many others, with styles ranging from boots, wedges, flats, pumps and sandals. Founded in 2011, Ashbury Skies offers free shipping from its base in San Francisco, CA to customers across the US and around the world.
Jeffrey Campbell Shoes is a Los Angeles-based designer of street fashion footwear for women. Founded in 2000, Jeffrey Campbell shoes have established a new paradigm in urban fashion and are coveted worldwide.
Discover this groundbreaking collection for indie brides, exclusively at Ashbury Skies: http://www.ashburyskies.com/cold-feet/