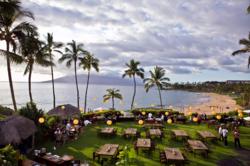 Four Seasons Resort Maui, a Hawaiian vacation destination geared to action adventurers, those guests wishing to practice the fine art of doing nothing at all, and everyone in between.
Maui, Hawaii (PRWEB) March 25, 2013
Well-known winemaker Van Williamson, co-owner of Witching Stick Wines (Anderson Valley, CA.) and Anne Fashauer, have been added to the list of distinguished vintners who will take part in Four Seasons Resort Maui's Vintage Wine Weekend May 24-26, at the award-winning resort.
Hawaiian-born musician, Makana, has signed on to provide the entertainment at the weekend's gala dinner. Makana is a world-renowned composer, singer and slack key guitar player. He has performed internationally, for President and Mrs. Obama, and his guitar instrumental composition, "Deep in an Ancient Hawaiian Forest," was featured in George Clooney's film, "The Descendants."
The three-day event, which is part of the resort's Unforgettable Events series, will feature wine experts and master sommeliers, including Chuck Furuya and Roberto Viernes, and vintners Dan Kosta of Kosta Browne; Donald Patz of Patz & Hall; Gary Burke of Costa de Oro; Steve Clifton of Brewer-Clifton; Laurent Martelet from Domaine de Chérisey; and now, Van Williamson of Witching Stick Wines.
Williamson, known as the 'Vanimal,' has practiced his craft at Fetzer Winery, Ficklin Vineyards, Chateau Montelena and more recently he had a 15-year tenure at Edmeades before starting Witching Stick Wines. The New York Times Wine Club has said of the winemaker: "No winemaker better understands or appreciates Zinfandel than Williamson."
The weekend starts with a VIP "Private Cellar" event, inspired by La Paulée, a famous celebration in Burgundy where winemakers would compete to bring the best bottle of wine. Guests are encouraged to join vintners, master sommeliers and fellow wine enthusiasts at this exclusive party. The evening will include a rare selection of library wines from the resort accompanied by an unforgettable menu created by Master Executive Chef Roger Stettler. Attendees are asked to bring their favorite bottle of burgundy or pinot noir, with the spirit of this friendly competition in mind. Price: $195.00 per person plus tax and gratuity.
The second night guests will take part in one of three wine dinners, featuring the wines of two vintners at each dinner. Dinners will be hosted by the winemakers and held at the resort's three celebrated restaurants: Spago Maui with Chef Cameron Lewark, featuring the wines of Patz & Hall and Domaine de Chérisey; DUO with Master Executive Chef Roger Stettler and the wines of Kosta Browne and Brewer Clifton; and Ferraro's with Chef Stettler, and the wines of Costa de Oro and Witching Stick. Price: $115.00 per person plus tax and gratuity.
The weekend concludes with the Oceanfront Gala, featuring 40 exclusive wines and action stations set up across the wide expanse of lawn. Master Executive Chef Roger Stettler's menu will feature local Maui produce, personally presented by area farmers and fishermen. Featured winemakers and master sommeliers will also be in attendance at this intimate evening. Entertainment will be provided by famous Hawaiian slack-key guitarist, Makana. Price: $165.00 per person plus tax and gratuity.
For more information, visit Vintage Wine Weekend at Four Seasons or contact the resort concierge at (808) 874-2201. About Unforgettable Events: Four Seasons Resort Maui's Unforgettable Events is a series of one-of-a-kind experiences scheduled throughout 2013. The calendar of events continues to grow and can be accessed at maui.fourseasons.com.
About Four Seasons Resort Maui: Maui's first and only Forbes Five-Star resort is nestled on 15 acres of the breathtaking Wailea Coast. The 380-room oceanfront property is world-renowned for its comfortable opulence, impeccable service, luxurious amenities, and for living in harmony with its environment and community. The resort in Maui is also home to one of the nation's top-rated spas committed to wellness and three of Hawaii's most acclaimed restaurants—Ferraro's Bar e Ristorante, Spago Maui and DUO, a premium steak and seafood restaurant. This sophisticated home away from home caters to the needs and interests of all generations—offering world-class activities and one-of-a-kind Unforgettable Events, a museum quality art collection, three pools overlooking the azure-blue Pacific Ocean including an adults-only Serenity Pool with exclusive Missoni-designed cabanas, and more. Four Seasons Resort Maui, a Hawaiian vacation destination geared to action adventurers, those guests wishing to practice the fine art of doing nothing at all, and everyone in between. (http://www.fourseasons.com/maui)
###
Media Contact: Charlotte Novom | Novom Marketing, Inc. | 714.941.9799